It appears Republican candidates for President are not the only ones attempting to lay claim to the still powerful political influence that is the Ronald Reagan legacy in America. President Barack Obama, in an interview given to CBS News this past week, indicated he was convinced Reagan would be quite supportive of Obama's intent to initiated surtax on those making more than one million dollars per year – now more widely known as the "Buffett Rule".  (It should be noted that Obama originally intended to initiate the tax surcharge on those making more than just $250,000 per year, but he has quickly altered that intent after Warren Buffett himself publicly opposed such a plan.)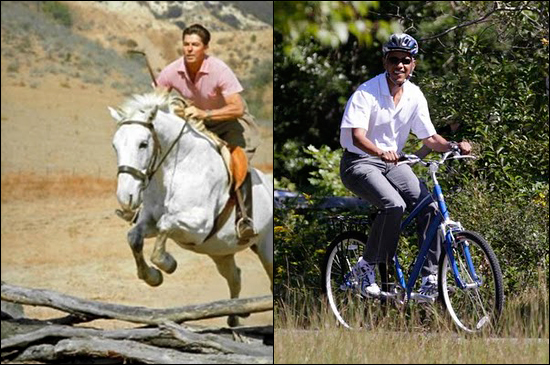 What President Obama is referring to was Reagan's desire to eliminate many of the tax loopholes that were present in the tax code of the 1980s.  This would in effect raise government revenues without the need for additional raises in the income tax brackets.  Obama's spin is of course, a blatent misuse of Reagan's original intent.  Reagan was quite open about his disdain for punishing those who experience success in America.  Closing tax loopholes as Reagan wished to do is not attempting to punish an entire class of Americans for their success – as is what Barack Obama is attempting to do.  Obama is not so concerned about tax loopholes as he is about raising taxes – period. 
It is the typical and economically deadly flaw so inherent in the Big Government tax and spend philosophy that is the foundation of the extremist liberalism of the Obama administration.  An extremism that has President Obama on the outside of his own Democrat Party. Reports now suggest numbers of Democrats are prepared to oppose the president's recently proposed $500 billion deficit spending jobs bill.  Senate Majority Leader Harry Reid has already tabled the Obama jobs bill, declaring it of secondary importance, while at the same time President Obama is still declaring that Congress, "Pass this bill now!"
Barack Obama's attempts to compare himself to Ronald Reagan is an example of political absurdity to the extreme.  America knew Ronald Reagan.  Ronald Reagan was America's friend.  Barack Obama – you're no Ronald Reagan.