Not satisfied with simply being a spokeswoman for healthier eating, First Lady Michelle Obama recently indicated her plans to transform how food is sold in every supermarket in America.  Of course, she will likely be more than happy to continue hosting her many high dollar – high calorie White House dinner parties at the same time…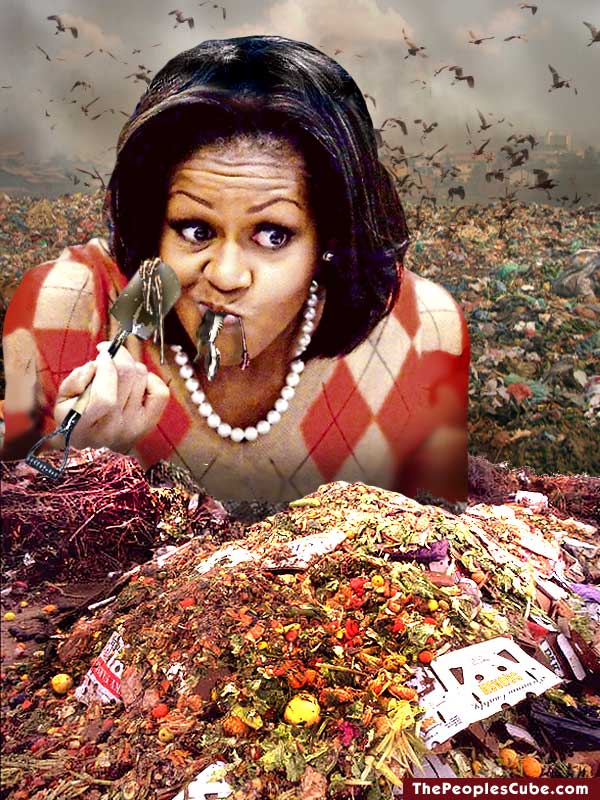 EXCERPT:
Mrs. Obama's 2nd-Term Agenda: 'Impact Nature of Food in Grocery Stores'
Asked by Parade magazine, "What do you hope to accomplish in your second term?" First Lady Michelle Obama said she wants to "impact the nature of food in grocery stores" with the aim of cutting sugar, fat and salt.
"…We still need to find a way to impact the nature of food in grocery stores, in terms of sugar, fat, and salt."  LINK
_________________
Make no mistake, among the most critical plans of the Obama administration for a second term is to further solidify Obamacare and link that to controlling how Americans eat through further federal regulations over restaurants and grocery stores.  Not only will healthcare prices go up – but so too will food prices – even more so than they already have.  (And they have already gone up a LOT under Barack Obama)
Already there have been schools attempting to ban "brown bag" lunches under the Michelle Obama – inspired theme of so called healthier eating.  More schools are now beginning to offer breakfast, lunch, and dinner to its students via federal funding and proposed mandates.  (Which of course means further federal control of local schools)  During this same time, the cost of school lunch programs are going up at increasing rates each year.
So when Michelle Obama admits she wants to control not only the food in schools, but grocery stores and your own family's dinner table – you better start paying attention America.  What she is actually admitting is the federal government's absolute control over the very foods you eat and serve your family in the once private confines of your own home.