Congressman Darrell Issa, as well as a growing and bi-partisan group in Congress now await the completed Inspector General investigative report on the failed and deadly Fast and Furious gunrunning operation that was overseen by the Obama Department of Justice.  The first public hearing since that investigation's release is now scheduled for next week.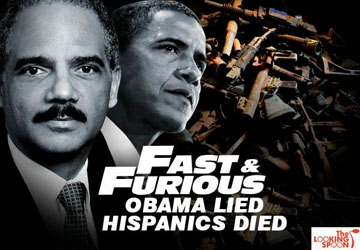 EXCERPT:
… The Justice Department's inspector general, Michael Horowitz, told Issa in a recent letter that after 17 months of investigating the botched gun-tracking operation, the lengthy report would not be ready for public release until later this week, at the earliest.
Horowitz assured Issa the report was going through the Office of the Inspector General's (OIG) standard finalization process.
"The OIG, and solely the OIG, is determining what information will be included in the unredacted final report, and it will contain all information that we deem relevant," wrote Horowitz in his letter to Issa last Friday.
He also said his office was talking with lawyers at the White House about any information that could be protected under President Obama's assertion of executive privilege.
Obama asserted executive privilege over certain sets of documents that Issa had subpoenaed from Attorney General Eric Holder. After refusing to turn the documents over — citing precedents regarding separation of powers and congressional oversight limits — Issa and House Republicans voted to place Holder in contempt of Congress.
The new hearing has been scheduled for next Wednesday.   LINK
__________________
I URGE ALL ULSTERMANREPORT.COM READERS TO WATCH NEXT WEEK'S HEARING IF YOU ARE ABLE.  THIS HEARING COULD GIVE STRONG INDICATION OF WHETHER OR NOT THIS SCANDAL WILL PLAY A SIGNIFICANT ROLE IN THE UPCOMING ELECTION, OR BE PUSHED ASIDE AND IGNORED UNTIL AFTER NOVEMBER…
__________________
AND FROM LAST WEEK DURING A BRIEF INTERVIEW WITH WHI – ONCE AGAIN THEY DELIVER THE GOODS:
UM:  I really appreciated the heads up on the ad blitz info you gave out last week.  Got something you can share about what's coming up now?
WHI:  Sure.  Watch for DOJ-related.
UM:  Dog and pony show or the real deal?
WHI:  Don't know.  Out of my hands.  Told you that a while ago.
WHITE HOUSE INSIDER: Bill Clinton vs Valerie Jarrett Backstage At DNC