The Inspector General's investigative report on the Fast and Furious gunrunning scandal that resulted in the deaths of hundreds of Mexican civilians as well as U.S. Border Agents was to be released today but due to delays associated with Obama Department of Justice officials attempting to alter that report, that release is now scheduled for next week.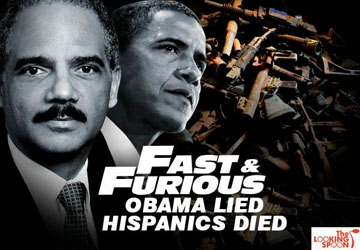 EXCERPT:
Issa 'Cautiously Optimistic' About Fast and Furious Report
House Oversight and Government Reform Committee Chairman Darrell Issa says he's confident an inspector general's report will seek to hold the Justice Department accountable for the Fast and Furious gun-tracking operation and the death of Border Patrol Agent Brian Terry.
The report was supposed to be released today at a committee hearing, but Issa told Fox News' Greta Van Susteren Monday that Inspector General Michael Horowitz was getting some "push back" from the department. As a result the hearing has been rescheduled for Sept. 15, when Issa said he's been assured that Horowitz will be ready to testify, despite department officials "objecting to things that are in the report and asking to have them redacted."
…Issa's investigation into the Fast and Furious operation led to President Barack Obama asserting executive privilege over some documents in the case. The oversight committee has sued the administration hoping to gain release of everything related to Fast and Furious, but the lawsuit is still pending in federal court.   LINK
________________
Remember the days when Barack Obama promised his administration would be the most open and honest administration ever?