For over two years we have shared with readers the insights of a longtime Democratic Party insider who engaged in a prolonged war against the progressive extremes of the Obama White House.  The 2012 election results would suggest that war was lost.  Not so says this individual, a Republican Party operative who, though fearful of what the future may hold, remains determined to see their party emerge a stronger and more unified organization that better represents the interests of conservative America.
"Ask any question of me that you want.  Anything.  I'll do my best to answer it for you and your readers."  That is the directive and the promise we were given prior to our first sit down interview with Republican Insider.  Here now is that conversation it its entirety.
_________________________
UM:  I want to set up your background a little for the readers.  Who are your political influences?  How long have you been working inside the Republican Party?  That kind of thing.  And why you agreed to participate in this process.  Basically, why would you bother with it?  We lost.  They won.  Why be a part of that?
RI:  Uh-huh.  Ok…first let me start with the reason why I would want to do this.  It's a fair question.  First, it's not a big inconvenience for me.  I think this…thing you have going here…has real potential. All of this new media stuff – Republicans have to get in front of it.  We got to stop playing catch-up with the Democrats.   It's a chance for me, and maybe some others, to say things we can't really say openly about…certain people or events…or plans for the party.  No different really than why it was being done before, right?  From inside the Democratic Party.
Look – there's a war going on between Republicans right now.  It's been ongoing for a while.  It's been…it was put off a bit during the election – but now it's picking right back up.  And it's a war that needs to be fought because frankly, the party has gone way off track.  Way of message.  It's forgotten what it is, or was…what it's supposed to be.  There's become too little of a choice between Democrat and Republican.  We need more space between the two.
UM:  What's that mean – "space between the two"?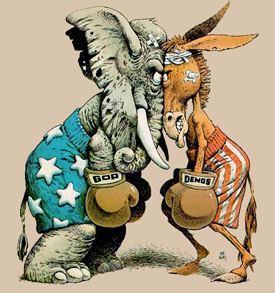 RI:  Simple.  It means there's not much difference between the modern Republican and the modern Democrat.  Not nearly enough of a difference to give Americans a real choice at the ballot box.  The Democrats are absorbing the Republican Party.  They've been doing it…Ireally started noting it during the Bush years.
UM:  Bush 43?
RI:  No – Bush 41.  That whole "new world order" stuff…100 points of light…that tone was not right for the party.  It suggested we were really starting to compromise our principles…America was losing its own identity.
UM:  So you're not a fan of the Bush family?
RI:  I'm not saying that – not at all.  They seem like fine people.  I was pretty young…starting out during Bush 41.  I was more on the outside looking in during Bush 43…I didn't really want to be involved in what they were doing.  So on a personal level, I admire the Bush family.  On a professional level…a political level…I think both Bush presidencies did terrible damage to the Republican brand.  And 2008 and 2012 – those elections…were a direct result of that.
UM:  That opinion – would you consider yourself in the minority within the Republican Party right now?
RI:  No – not at all.  There's a lot of us who feel the same way.  We don't care for the Karl Roves, the…the old guard if you will.  We know there needs to be new blood to push the party in an old direction.  That's how I've been putting it for a while now – new blood to put us back toward an old direction. 
UM:  What's that mean?
RI:  It means we need to reacquaint ourselves with what we used to stand for.  It means…look – I'm a student of history.  Of politics.  I love it.  I have gone back and reviewed the Founding Fathers… and Lincoln, FDR…Kennedy…Reagan…all of it.  We don't need to reinvent something here…we just need to look back about 30 years or so to know where we should be heading right now.  We need to sell liberty again in the Republican Party.  People get that – they want that.  They are willing to fight for that.
UM:  30 years – so…you're a fan of the Reagan era Republicans?
RI: That's right – and I understand you are too.  Right?
UM:  Absolutely.  I call him the last great president America has had.
RI:  That sounds like a fair description.
UM:  Did you know him?
RI:  No – I wish.  Too young.  Just a student of that time…like you.  I've spoken with some did though…who worked the campaign.  Some who worked inside the Reagan White House.  And when he was governor.
UM:  So you believe that Republicans today need to learn from the Reagan era, is that right?
RI:  Yeah – basically that's it.  Part of it.
(Pause)
The party today…it really has so little resemblance to what it used to be.  In fact…in many ways, today's Republicans are yesterday's Democrats.  And that…I mean what a horrible thing to have to admit.  But it's true.  They are killing off conservatism.   That Goldwater conservatism that Reagan took up with a smile and a real conviction…and put it in terms the American people could understand and embrace and know in their hearts Reagan was right…conservatism was right…and all that liberal nonsense was just a silly sideshow. Now…I know Republicans embarrassed to call themselves conservative.  We don't need them in the party.  Don't want them in the party.  But unfortunately, some of them…they are actually running today's Republican Party.
UM:  But you don't think we're too far gone already?  You think the Republican Party can…can come back from this?
RI:  Yes!  Without a doubt!  Look…I am an eternal optimist.  I believe…I truly believe this country was blessed.  We've neglected it for a while now.  We've become…let's say…overly selfish.  Lazy.  Certainly lazy.  The Republican Party is…intellectually…it has really become pathetically lazy. And that spreads to the voters.  But…well…you have to give those voters a real choice, right?  You have to be willing to draw a line and say "this is us – and that is them.  Now choose what you want."  And we haven't done a good enough job of that.
UM:  I want you to clarify that point – what you mean by saying give the voters a real choice.  Are you…do you mean that Mitt Romney wasn't a real choice?  Between him and Barack Obama?
RI:  That's right.  As unpopular as that might be for some of your readers…that is exactly right.  And I am a fan of Mitt Romney the man.  He is a great American success story.  A wonderful businessman.  By all accounts – a wonderful human being.
(Pause)
…Horrible politician though.  And yes – not nearly enough of a choice for the voters between him and Barack Obama.  This was not an election to be giving voters "Republican-Light."  I'm not saying Mitt Romney wouldn't be better in the White House than Barack Obama – that's clearly not the case here.  But…look, we had about 3 million Republicans stay home.  Didn't vote.  Less turnout than 2008 when we offered up the single worst Republican candidate in my lifetime.  That shouldn't have happened.  But it did – it did.  And the party needs to take a real honest and hard look at itself and as why.  And in my view, a big reason…maybe THE reason why, is because we didn't give voters a real enough choice.  We didn't give voters…conservative voters…a real contradiction that was easily understood and something they could feel proud and confident of voting for.  This was not the time to give them a hold your nose and vote candidate.  But that's what the party did.  And shame on us for doing it.  America deserved better.  America needs better than that from Republicans if we want to save this country from the Progressive mess it's in.  These Progressives?  We all know what they really are.  Barack Obama?  Valerie Jarrett?  Your insider had them nailed in that regard.  How did they put it – "They ain't no Democrats?"  That is absolutely right.  I know Democrats who feel the same way.  I've spoken with them.  They are scared to death of this White House.  But so many of our own Republicans are sleep walking through this.  And for the life of me…I just don't understand why.  So…we need…like I said…we need new blood to go back to an old direction.
UM:  And you had no direct affiliation with the Romney campaign?
RI:  No – none.  I wasn't…I wasn't interested.
UM:  You wouldn't have accepted a position if offered one?
RI:  No.
UM:  Why not?
RI:  Ideologically…that was not the campaign for me.  I was busy elsewhere.  I don't take on a campaign just to do it.  Or for the check.  I have to believe in the candidate.  That allows me to sleep at night.  I can't go back home to my family and feel I'm doing right by them if I don't believe in the candidate.
UM:  And you didn't believe in Mitt Romney…
RI:  Politically…no.  He…the Republicans didn't  do themselves any favors with that campaign.  Or more specifically – with that particular candidate. 
UM:  But you voted for him, right? Romney?
RI:  Yeah – of course.  Obama…that White House is the single greatest threat to the country.  Right now.  I completely believe that 100%.  Mitt Romney is a great guy – horrible politician.  But…he would have been much better in the White House than another four years of Barack Obama.
UM:  So you don't consider Mitt Romney or John McCain as strong choices for the Republican Party.  Has there been anyone you would have liked to have gotten the nomination but didn't?
RI:  Of this last group…I favored Governor Perry.  He had some horrible gaffes…he was dealing with major surgery at the time…I believe you reported on that a bit.  But his stance on the 10th Amendment…I wish more Republicans would explain that to voters.  In simple terms – it's all about freedom.  States need to have the barrier of freedom and self determination between them and the federal government.  Governor Perry did a pretty decent job of putting that out there during the early parts of the primary.  Then…you hardly ever heard of it again.  And I'm thinking WHY NOT?  Why aren't Republicans talking about that?  Take the 10th Amendment principle and apply it directly to what the Obama administration has been doing.  That's what the 2010 Midterms were all about – even if it wasn't being explained in that way.  Obamacare is a direct violation of the 10th Amendment in my view.  People instinctively knew that in 2010.  They felt it in their bones.  And they went out and voted in massive numbers and took back the House and almost took back the Senate.  But did the Republicans build on that feeling?  That backlash against big government coming in and pushing out states' rights?
No.  They talked a bit about taxes, which of course the Democrats and the media just turned into "Republicans for the rich" or "Republicans hate the poor" or whatever.  We walked right into it.  Stupidly.    So why would I be a part of that kind of campaign?  It wouldn't have worked.  And I'm not going to sell my principles just so I can say I was playing ball in the big game.  I don't have that kind of ego.  What I do hope I have is simple love of country.
UM:  Any other Republicans that earn your endorsement?
RI:  Sure…but first I want to say there are not "perfect" Republican candidates, and people need to stop looking for one.  There are people who…basically who embrace and are proud to uphold basic conservative principles of less government and more opportunity and those who don't.  Now there are degrees of different there of course…but you take a Senator McCain of a Governor Romney…there's just too much willingness to lean on the side of Big Government with those kinds of Republicans, and we can't afford that kind of…for lack of a better term…wishy-washy politicking.  Don't be afraid to declare conservatism as THE real choice for America.  Embrace it, and learn how to communicate it in such a way that people understand it.  You have to cut through all the media bias, the education system…it's not an easy task.  I'm not saying that – but it is an essential task.  It is, politically speaking right now, the most important task.  And that's a big part of why we are doing  this.  I see potential here.  And I want you to understand that.  You have real value to me.  You…your readers.  There is some very interesting discussions that have come out of what you are doing.  There's some less than intelligent remarks…every blog has that.  But you also have some…let's just say I've been impressed with what some of your readers have to say.  And I take those comments and I go back to people I deal with and say "Look – this is what American wants!  Listen to these people!  Represent these people!  They are out there.  They are looking for the right leadership and we just need to be willing to listen to them and provide that leadership!"  I've really had those conversations with people. And I intend to keep having those conversations until enough of them get it.  And join us.
UM:  I know we are getting a bit long in time here, but wanted to…
(Interrupts)
RI:  No need to do that – to apologize.  I've made time for this – you ask your questions.  That's what I agreed to not as a favor, not because I think what I have to say is so important, but because I believe in what you are doing. I believe in the potential of what this is and what it could be.  Republicans don't quite get this new media…this alternative news concept.  The Romney campaign certainly was better at it than McCain, who was…well – they were a mess with it.  But we…Republicans…we are still playing catch-up with the Democrats on this.  And we are talking about literally now… we are talking about millions and millions of people who read or listen to or watch this new media format in one form or another and for us to not be taking that on and using it to educate people about what conservatism really is…new blood.  New ideas.  A new way of communicating an old message.  Take the Reagan playbook and update how it gets out to the voters.  That's a big part of what Republicans should be doing.  Some of us get that.  But there's still a lot of the old guard who wants to keep doing it the old way…and getting the same result.  Again – look at 2010.  The Tea Party.  What an amazing transformative event that was!  And it was almost entirely based on the new media!  And what does the Republican leadership do?  They push back against it because they were worried they couldn't control it.  Some of them openly resented it. How misguided and short-sighted is that? 
So don't you – there is no need for you to excuse wanting to ask me anything when we set aside time to have these discussions.  You get contact me at any time, with any questions.  I'm available to you and to your readers.  Not the other way around.
UM:  Thank you mate – really…that was a wonderful thing to say right there.  Appreciate it. 
…What I was going to ask is…I was hoping to end this with a bit of word-association.  This allows me to get a bit more information to the readers in a short…it takes less time, yeah?  Would that be ok?  I give you a name or topic – and you give me a brief response.
RI:  Sure.  Keeping it brief might be the toughest thing for me – but I'll do my best.
UM:  Barack Obama
RI:  Wrong.  Wrong for America.  Deceptive.  Charismatic.  Dangerous.
Is that what you had in mind?  That kind of answer?
UM:  Perfect.
Mitt Romney.
RI:  Honorable.  Too liberal.  Unfortunate result.  Predictable result.
UM:  Sarah Palin.
RI:  The reason many conservatives voted in 2008.  More than voted in 2012.
UM:  Marco Rubio
RI:  Potential.
UM:  Mainstream Media.
RI:  Democratic Party.
UM:  Valerie Jarrett.
RI:  Obama's brain.  He said it.  I agree.
UM:  Karl Rove.
RI:  Arrogant.  Not a true conservative.  Helped destroy the Perry campaign.
UM:  White House Insider.
RI:  (No answer)
UM:  White House Insider.
RI:  (Pause)
…Well intended but misinformed about some things.  Critical things.  Heartbroken.
UM:  Benghazi.
RI:  Tragic.  Scandal.  Republican leadership…helping to cover up.  Military Insider.
UM:  What?
RI:  Tragic.  Scandal.  REPUBLICAN…Leadership…covering…up.  Military Insider.
UM:  Elaborate?
RI: Not at this time.  It will…it's already developing on its own.  We won't make the mistake of Insider – don't reveal something just to prove yourself.  That gives the opposition time to react.
UM:  2014
RI:  Conservatism fights back.
UM:  2016
RI:  Conservatism in the White House.
END INTERVIEW.
_______________________________
Ulsterman's first Insider e-book available now:
The Man Who Calls Himself Obama