Received this update from Republican Insider following Barack Obama's first press conference in eight months. (Actually a bit embarrassed to say I was not aware there was a press conference today)  In this update RI gives us a simple and straightforward example of how Republicans need to better communicate how Barack Obama and other Democrats attempt to alter political reality to better compliment their own far- left agenda.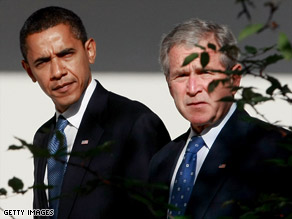 (Barack Obama blamed George Bush throughout his first term.  Will he now "blame' Bush for giving middle class Americans the very tax he now claims to want to defend?)
_______________________________________
Hello.  Quick update for you following the president's PC.   Almost real time for you.
Won't waste time going over the talking points garbage that Barack Obama is so good at delivering.  Only two real Benghazi/Petraeus questions that the president spun.  He knows the issue isn't going away quite yet.  I can confirm for you there are Republicans saying it's time to "go long" on this issue.  But they really want someone affiliated with the administration to back up an investigation and I have no idea if they have that or not.  Will try and get you an answer by tomorrow.  You are completely right in your anger on how these guys walked back the press conference two weeks ago.  Shame on them.  They are the kind of Republicans that make people so untrusting. Hope your Insider is healing up from that experience.  I know it would take me a while.  The Benghazi issue is not going away any time soon.  It will be a battle between those of us who truly do want to "go long" on it, those on the Republican side who are worried about political blowback, and then the Democrats and the White House who are really going all out to shut everything down.  So while the issue deserved more than two questions at the PC today, at least we got those two.  There will be more to come I think.  I can't promise you this thing will really take hold, but we are working hard to give key Republicans the sense of security that they need to join in this particularly fight because it is one we can actually win.
Anyways, here is an example of how the Republicans can pin down Obama on his bullcrap.  When he goes out there and starts telling America how  concerned he is about a potential tax hike on the middle class, Republicans need to come right back and say they will be happy to negotiate the extension of the Bush middle class tax cuts with the Democrats.
Repeat that line phrase over and over again.  THE BUSH MIDDLE CLASS TAX CUTS.
That is what the president is trying to do.  Extend the Bush era middle class tax cuts.  We did a study months ago and found that about 70% of respondents indicated President Bush gave the rich a tax break and actually raised taxes on the middle class and the poor. That is totally false of course.  Just the opposite.  Bush lowered taxes for EVERYONE.  So much in fact that about half of Americans now pay no federal income tax after deductions.
So if you could help get this out there, and hopefully all of your readers can help out as well.  Tell everyone they know that Barack Obama wants to extend the Bush middle class tax cuts, because the truth is that is exactly what he is trying to do.  Just a little thing like this can make a huge difference in public perception.  Barack Obama and the Democrats got a lot of mileage out of calling it the Bush tax cuts for the rich.  Now they are trying to get even more mileage by saying they want to prevent a tax hike on the middle class.  And I have heard it repeated many times that the White House is all in on the "holding the middle class hostage" theme for as long as they can get away with it.  It's up to this new media to try and prevent them from doing that.
-RI
_____________________________
The Man Who Calls Himself Obama