Again, per request, the second volume of previous Insider interviews available in one e-book location:
The Man Who Calls Himself Obama II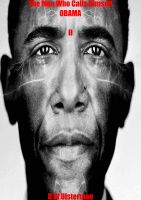 __________________________
EXCERPT:
Here is Volume Two in a series of compelling interviews with various insiders who gave dire warnings of the reality that was and is, the Obama White House – a White House far removed from the portrayals being given to the American public by an adoring and always protective Mainstream Media. 
WARNING: Adult Content.
______________________________
August 21st, 2011
…Insider:  I'm at my desk here right?  We're sitting here having this conversation.  How about we take a look at what the president would look like in the same situation?  Walk into that room – that office of his on the 2nd floor.  He spends less and less time downstairs – that's Daley's world now.  The president doesn't like the Oval Office much – he's made that point repeatedly to more than a few at the White House.  He prefers to be upstairs, no suit.  No shoes.  No joke —
Ulsterman:  (Interrupts) —Shoes?
Insider:  Yeah – shoes.  President Obama, when he is in his de facto office upstairs – the one that is closer to Jarrett's own office, and a short hop over to the residence, he spends his time there often in shorts, or sweats, a t-shirt, and those sandal things…flip-flops.  There is a large screen television in there and that's where hours of his time are spent when he is actually at the White House. Day in and day out.  The First Lady rules the residence, and the president heads over to his 2nd floor West Wing study.  Starting around last spring, he started to take regular briefings in there.  And the instructions that went out on those briefings to the president were that they were to be most importantly – brief.  Anything more than about 15 minutes is unacceptable to Obama.  So let's look through the eyes of someone heading into Barack Obama's upstairs office at the White House to give him a briefing.  Maybe it's on national security.  Maybe the economy.  Energy policy. Whatever – doesn't matter.  The scenario being played out these days is pretty much the same regardless of the particulars.  You knock on the door – it's always closed.  Always.  Often you have to knock for some time before being given approval from inside to enter.  The big screen will be on – the volume loud.  You can easily hear it from outside the door.  The sports channels are the ones most commonly playing, though sometimes the channel will be set to music, or Fox News.  Sometimes Valerie Jarrett might be there, but most often it is just the president and his personal aide.  A large leather chair will be facing the television – it's well worn…
The Man Who Calls Himself Obama II