Former CIA Director David Petraeus apparently made clear to Congressional lawmakers this morning that the CIA deemed the attacks against the Benghazi consulate in Libya on September 11th, 2012 to have been terrorism within hours of the event.  This estimate was then, according to Petraeus, altered by someone with direct ties to the Obama  White House and then later repeatedly communicated to the American public by U.N. Ambassador Susan Rice days after the attacks.  Ambassador Rice and the Obama White House repeated the claim the Benghazi Massacre was the result of an unknown YouTube video – despite, according to this mornings closed door hearing, their own CIA Director telling them otherwise.
EXCERPT:  (via Breitbart)
Republican Congressman Peter King just exited the closed-door hearing with David Petraeus to update the media, and his description of  the ex-CIA Chief's testimony contained more than one bombshell.
For starters, King said Petraeus told them that the CIA talking points meant for U.N. Ambassador Susan Rice's Sept. 16 round robin of five Sunday network news shows, originally contained the information that there was evidence al-Qaeda elements were involved in the attack. These talking points were then altered by the White House or someone close to the White House.
…This leaves us with two new and very important questions that must be answered:
If he did, why did Petraeus change his testimony?
Who changed the CIA talking points, removing the evidence an al-Qaeda element was likely involved in the murder of a U.S. ambassador and three other Americans?   LINK
______________________
And let us not forget – David Petraeus abruptly resigned just days after the 2012 election.  Was his own personal scandal the leverage the White House was using to force his compliance to go along with their version of the Benghazi Massacre?  Perhaps.  Certainly the timing is suspect – as is so much that relates to this Obama White House.  -UM
____________________
UPDATE (via HotAir)
In his closed door meeting on the Hill, "[Petraeus] will also say he had his own talking points separate from U.N. ambassador Susan Rice. [Hers] came from somewhere other in the administration than his direct talking points," Barbara Starr of CNN reports, referencing a source close to Petraeus.
"When he looks at what Susan Rice said," CNN reports, "here is what Petraeus's take is, according to my source. Petraeus developed some talking points laying it all out. those talking points as always were approved by the intelligence community. But then he sees Susan Rice make her statements and he sees input from other areas of the administration. Petraeus — it is believed — will tell the committee he is not certain where Susan Rice got all of her information."   LINK
_____________________
What we now have here is a quite recent former member of the Obama administration – the CIA Director no less, giving a very strong indication that a person or persons with direct ties to the Obama White House,  aggressively altered the CIA assessment of who was actually behind the deadly terrorist attack of September 11th, 2012.  This alteration/lie was then repeated for days to the American people.
The question now is WHO ALTERED THE CIA ASSESSMENT?  And if there was in fact a "stand down" order that in effect, sentenced those four Americans to death – WHO GAVE THAT ORDER?
Related to those two simple, yet critical questions, is this now breaking news item:
CIA to investigate Petraeus as he testifies?
In a story line full of credibility-stretching coincidences, NBC brings us one that doesn't even clear the laugh test.  Just two days after David Petraeus offered to testify on his knowledge of the Benghazi attack and its aftermath, and on the same day when the first of those appearances by the former CIA director will take place, NBC News breaks the story that the agency will open an investigation into Petraeus' affair with biographer Paula Broadwell to see if Petraeus abused CIA resources to conduct it.  LINK
______________________
It seems increasingly clear the Obama White House is more than willing to attempt to destroy the reputation of the most celebrated American military leader in a generation in the hopes of intimidating him to shut up about what he knows regarding the Benghazi Massacre.  Pure Chicago Thug politics at a level this country has never seen.  -UM
____________________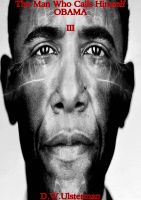 The Man Who Calls Himself Obama Volume III