Anyone else sick and tired of Republicans jumping at the chance to criticize a fellow Republican?  This past week saw a list of GOP governors only too happy to criticize Mitt Romney for his honest (and ACCURATE) description of the Obama campaigns big money gift promises to certain segments of the electorate in order to help secure election victory.  These so called leaders, most if not all who currently have hopes of winning the nomination in 2016, are showing a pathetic lack of character and solidarity at a time when the party needs just that.
_________________________
Perhaps the most notable criticism of Mitt Romney's remarks came from Louissiana governor Bobby Jindal, who said the following:
"I don't think we advance this discussion or debate by insulting folks."
With all due respect Governor Jindal, Mitt Romney didn't "insult folks" – what he did was make a very accurate comment regarding how Democrats have fully embraced the concept of promising everything to everyone who will possibly support them during an election.  In the case of Barack Obama, he promised a long list of donations in order to secure votes:
-Obama phones
-Refusal to enforce federal immigration laws and the punishing of state government attempting to enforce their own immigration laws – basically telling criminals to "VOTE OBAMA" and they will get away with breaking the law.
-A promise to give college students lowered interest rates on student loans – even though the actual legislation only gave a TEMPORARY promise of lower rates, thest youth didn't bother to educate themselves on the details.  Additionally, the student loan program under Barack Obama is now on the verge of creating a massive bubble could prove disastrous to the future of the college loan program and likely require yet another massive taxpayer funded bailout.
-A promise of free contraception for all – even if it means crusing religious freedom and  forcing religious institutions to go against their own faith to do so.
-And don't forget Obama's "evolved" stance on gay marriage.  What his campaign did in fact was poll voters in various critical swing states and find that support for gay marriage had in fact grown since the 2008 election.  That's all it took for Barack Obama to announce his newly found full and unwavering support of gay marriage – with the explicit direction that they best turn out for him or the evil Mitt Romney was sure to destroy them all in the Mormon fires of revenge.  (Or something close to that anyways)
So to those Republican governors who wish to now demean Mitt Romney, a man who it appears was actually less than a half million votes away from being the next President of the United States, I strongly urge you to reconsider your own messaging.  Conservatives are tired of the milk toast variety Republican, who would sell out their own kind in the hopes of gaining the support of voters who, as Mitt Romney so rightly said, are simply waiting for the next handout.  What needs to be sold to Americans, as our own Republican Insider so correctly put it - are the concepts of FREEDOM, LIBERTY, and OPPORTUNITY.  If a nation is offering those to its citizens, all else becomes secondary.
What this current Democratic/Socialist/Progressive Party is offering voters is ENSLAVEMENT.  That is now the undeniable truth.  Don't shy away from telling the people that truth, because conservatives already know that – they are just waiting for a leader to LEAD.  And if the Republicans can bring forth such a leader, they will win elections.  If instead, they choose to beg, and grovel, and demean other Republicans, all conservatives are weakened, and Democrats will continue to defeat Liberty in America.
-UM
_______________________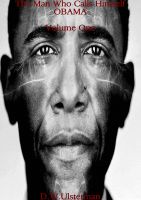 The Man Who Calls Himself Obama