Following a recount of some 37000 St. Lucie County ballots, Democratic opponent Patrick Murphy strengthened his lead over Republican Allen West.
(Congressman Allen West fought hard – but lost his recount battle against Democrat Patrick Murphy)
_________________________________
EXCERPT:  (via wptv.com)
St. Lucie recount results shows Patrick Murphy still ahead of Allen West
FORT PIERCE — Results of recounting more than 37,000 St. Lucie County ballots were announced shortly after 2 p.m. Sunday and preliminary figures given by Canvassing Board member Tod Mowery placed Jupiter Democrat Patrick Murphy farther ahead of Republican Allen West than before the two-day effort began.
Murphy campaign senior advisor Eric Johnson was quick to reaffirm victory.
"As far as we're concerned, this puts an end to it," Johnson said. "The West people demanded a recount. They got that retabulation and Patrick Murphy gained a margin of 242 votes.
""This election is over," Johnson added.   LINK
_____________________________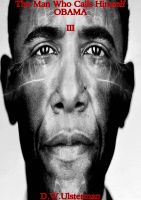 The Man Who Calls Himself Obama Volume III
 "So after the handshakes, the small talk, the photo taking, everyone sits back down to begin the actual discussion. I won't say what the discussion was on, who said what–just going to keep this about the president and Valerie Jarrett. How that meeting turned…odd. It became very-very odd…"