Our second full sit down interview with a Republican Insider who is urging those both in and outside of the party to work toward modernizing both the conservative messaging, while remaining true to core conservative values, including a warning that if this is not done – America will be going-going…GONE.    Here now is Part One of this interview:
(Can Republicans figure out how to better utilize the new media?  Republican Insider says YES.)
___________________________________
UM:  Thank you again for taking the time to speak with me.   With us actually – the readers.  And thank you for taking the time to answer their questions like you did.  That was unexpected and I think, appreciated by a lot of them.
RI:  My pleasure – really.  No worries there, and happy to do it again…but – there is something I want to say…start this off if it's ok, about something you wrote this weekend.
UM:  What is that?
RI:  I don't think we want to…that you should be writing headlines about – about telling governors to "STFU".  That's not what I'm about with this.  Not one bit.  Really – I'm not here to brag or boast or threaten people in my own party.  Not on an individual level anyways…ummm…I have issue – have issues with the party.  And I'm more than happy to talk about those but…the…I don't want to make this about going after individuals on a personal level.
UM:  But that's what they did to Mitt Romney, right?  They are dumping on him.  Going after him.
RI:  Right – not saying…I'm not defending them one bit.  I agree, what they ummm…what they said.  Not how we want to behave as representatives of the Republican Party.  It IS exactly how the Democrats like to see us behave though – and so that's my…that's my message there.  Don't do it.  Can't control what some governor says – but YOU can control your content.  Your headline.  Right?
UM:  I'm not gonna have you tell me what my headline is going to be.  Yeah?  Or my content.  Or my message.  Yeah?
RI:  Not at all – certainly.  You bet.  I'm not doing that.  You write what you want to write…but I'm telling you on this particular example…I'm telling you I don't think it's a good idea.  Letting you know that.  You decide what if anything you want to do with the advice…but…well…if that is what you continue to do with the blog…then maybe this isn't the right place for me.  (PAUSE) …And that is not a threat.  Nothing like that.  Really.  Just letting you know that I really…when I say don't talk about another member of the party…specifically…if it can be helped…then don't do it.  That's all.
UM:  (SIGHS)…I'm not here to just play nice.  I consider myself…very respectful of other people's opinions and views.  But…I'm really quite tired of people taking the piss to Mitt Romney.  It isn't right.  He's a good and honorable man, yeah?
RI:  Taking the piss?
UM: …it's a phrase…never mind.  Just that…we have people in the party right?  In the party unloading on Mitt Romney and on a personal level – I don't like it.  First we have Christie fallin' in love with Obama after the hurricane – now this?  Really?  Is that what the Republican Party is about?
RI:  Unfortunately, yes…in some ways…yes.  And THAT is what I want to talk to you about.  THAT is why we are here.  I thought so, anyways.  I hope so.  To talk about the future direction of the party, how to make corrections so we can start winning national elections again.  Not so much corrections on our principles, but how we go about messaging those principles, right?
UM:  So Mitt Romney losing was all about messaging?
RI:  Not entirely – no.  We covered some of that before.  There was baggage from previous statements he made, there was…heck, he was running against Barack Obama and the media – that's no easy task for anyone.  Period.  But that's what every Republican candidate will be up against, has been up against, for a while now.  It's gotten worse though and 2012 was as bad as it's ever been.  That last press conference?  I said we were lucky to get those two questions on Benghazi – but all in all…what a joke, right?  The established media – we can't count on them for anything.  Nothing.  There is no truth there…or very little of it.  So little of it…that's why what you are doing, what others are doing…every small example adds up to a much bigger picture, right?  I believe in this new media.  100%  It is how we defeat Democrats.  But Republicans have to get with the program on this…they got to get up to speed.
UM:  I had a reader forward me an article where an operative was saying that same thing – that the way the Republicans are messaging is so out of date, that the Democrats are years ahead with all of that. (PAUSE)…You have anything to do with that?  That article?
RI:  (SHRUGS)  That's not important for this conversation.  What I do outside of this…that's public.  What we talk about here…that's why the anonymity is so…it allows a certain level of…or type of conversation that would compromise my ability to keep working out THERE.  No different than why it appealed to Insider.  Same thing.  If you want to earn a buck, you have to find different ways of getting the message out.  Not so long ago, there were leaks…ummm…mainstream media types you could sneak that stuff to.  Now…I don't trust those people.  And the ones I did are…most of them…they're already long gone.  Pushed out, quit…whatever.
UM:  Looks like Allen West lost his recount.  Can I get you to come right out and give a position on whether or not this election was stolen?  Not the West election – talking the national election.  Those precinct numbers that had incredibly high turnout and 99% or even 100% voting for Obama.  What…how does that happen?  No way.  Insider made it very clear – said if Obama wins this election that means he stole it.  He took what Democrats had been doing on a smaller scale for years and applied it to several states – on a national scale.  That he stole the election.  STOLE IT.
RI:  You want to know if I agree with that?
UM:  Yeah – simple as that.  Yes or no.
RI:  No.
UM:  Explain that.
RI:  You asked me to give you a yes or no.  There has been no proof, no verifiable proof the election was stolen.  I'm not saying it wasn't possible on some level, but that's not what you just asked me.  You want a yes or a no answer.  So without proof – I say no.
UM:  What about those ridiculous precinct numbers?  99% voting for Obama?
RI:  You're just giving me numbers – not proof of wrongdoing.  Again, do those numbers make me suspicious?  Sure.  But do I have proof?  No.  So without that, it's wasted energy.  It's the kind of wasted energy the Democrats want Republicans to engage in.  Chase this ummm…chase this conspiracy and that conspiracy…it's distraction.  While we are off doing that, they are winning elections.  THAT is what I'm about here.  Winning elections.  Not running elections.  WINNING elections. If we don't win elections, we don't…the country keeps going in the wrong direction.  The direction of the Democratic Party.  The direction of liberalism.  Socialism.  Marxism…whatever you want to call it.  Whatever label people want to put on it – to me it don't really matter.  I just know it's the wrong way for America.  Absolutely 100% the wrong way for America.
UM:  How about another yes or no then?
RI:  You might not like the answer.
UM:  Well…I think voters are sick and tired of politicians giving them the middle of the road maybe-maybe not type of answer. I know I am.  You said the country needed leadership.  Leaders don't sit back and just give middle of the road answers, yeah?
RI:  Sure.
UM:  So tell me then…Barack Obama.  Socialist?  Communist?  Marxist?  Fascist?  Democrat?  What the hell is he?  Because…I don't know anymore.  I don't know what this guy is.
RI:  All we need to know is that he is the President of the United States….and that's not good.  It's not right.  But…he got his second term.  We can't change that.  What we can do is get things rolling for 2014 and then 2016. Because I will guarantee you this…the Democrats…they want 2014.  They want 2016.  They want 2018.  They want 2020.   They want this country…the ones in charge of the party right now…they want it all.  And they scare me.  Big time.
UM:  I know Obama is president…but…you deal with these people all the time.  Politicians.  You've seen this version or that version…have you ever seen anything like Obama?  He's shutting down new oil production in the western states…he wants another trillion in deficit spending…whatever the hell he was doing in Benghazi…how he openly sh*ts on Israel…the class warfare…how every criticism is sexist or racist…what is he?  Have you ever seen anything like this in the United States of America?  Because…because I haven't.  I've watched liberal Democrats…but Barack Obama…he goes way past "liberal Democrat".
RI:  Your Insider called it right – he's not Democrat.  Not the traditional version.  But he is TODAY'S version of a Democrat.  Ok?  You need to understand that.  This isn't your daddy's Democratic Party anymore.  Then again, it isn't the same Republican Party either.
UM:  The party – Republicans…too moderate?
RI:  No – too liberal.  Period.  Republicans are…during the two Bush terms…Republicans spent more and expanded government more than anything Bill Clinton attempted with the exception of the short lived stab at healthcare reform.  Way beyond Clinton.  Huge expansion of the federal government under the last Republican president.  Obama has just taken the same ball and run with it a little further and a little faster than George W. Bush did.  And his father was similar like that too…the Bush family…this is not a personal criticism but strictly a political one here – they embraced big government almost as much as any Democrat before them had.
UM:  I don't agree with that – they don't compare to LBJ. Medicare.  War on poverty.  That's not true what you just said.
RI:  Sadly, it is true.  Did Lyndon Johnson expand the size and scope of the federal government?  Absolutely.  But the facts lay it out – so did the Bush presidencies.  Higher taxes with one, several wars, more entitlement programs, huge expansion of the foreign aid, the Department of Education, Homeland Security…don't even get me started on the Patriot Act.  You take a bunch of Democrats from say…40 years ago and lay out the two most recent Bush terms…all of the spending and government expansion…I bet at least half of them would call him a communist president.
UM:  Wow.  That's harsh.  And – how is that not beating up on a fellow Republican?  Didn't you say that's not what you were about?
RI:  First…it's not harsh.  It's the truth.  Second…well…you may have a point there.  So I'll give you that one…but you know what…right now…this conversation.  THIS is what needs to be going on inside the party…between conservatives all over the country.  This kind of conversation.  We need to work this stuff out, come up with as united a vision as possible, and rock and roll in 2014 and beyond.
UM: It's gonna take a lot more than just people talking.
RI:  Hey – people talking.  People reading the truth.  People thinking about what we agree on instead of always focusing on what we don't agree on…we need to get an idea of the bigger picture here.  Democrats have been dividing Republicans for a long time.  That's why we get these milktoast candidates for office – not just for president…I'm talking races all over the country.  The media and the Democrats have beaten down the people who speak out…so…everybody else is scared to death that they might be next.  We have Republicans who don't trust the voters to back them.  They just don't.  And…really…can't blame them for that.  Not entirely, because we got a whole lot of so-called conservatives how are lazy, nasty, rude, and I apologize for the term…assh-les.  And that's the honest to God truth…seen it up close and way too personal way too many times.  And you know what the media does with those kinds of people?  They focus on them and use them to ridicule the party.  And they've done a real good job of it.  Real good.
UM: But people can talk all they want – the politicians are the ones who have to actually do something.  And…who is going to step up for us?
RI:  NO – stop looking to politicians to solve your problems.  That is partly…there were a lot of voters who I think assumed Romney would win. Or…heck I'm not sure what some of them were thinking but I've gone over the numbers now…dug into those numbers.  You can complain about voting fraud, maybe there was some of that – probably on some level, yes…but overall, the reason Mitt Romney lost was the Obama campaign did a better job than the Romney campaign…and the mainstream media.  Your insider called it a long time ago during the primary race…when there was that question about abortion…or contraception…the ABC guy kept repeating the question.  That was what – last year, right?  They went right out in the open there…total collusion with the Obama campaign.  Period.  Total collusion and they don't even bother to really hide it anymore.  And it worked.  The war on women, war on gays, war on immigrants, war on the poor…the fact is, for the Obama campaign, IT WORKED.
UM:  Ok – so what your YOU gonna do about it?
RI:  This is part of that.  I am working very hard to modernize how the party gets its message out to voters…but…it…we can't count on…go through the Mainstream Media for most of that…they will muddy the water there.  They will confuse the message.  So…we use the alternative ummm….the alternative media.  All of…blogs…message boards…all of it.  It all adds up…millions of voters…millions of people who are talking and sharing ideas, and…if there was just a bit more organization…and if the Republicans respected the potential of how powerful this could all be…the Democrats know.  They've owned it for…I'd say the last ten years.  Owned the new media.  Now it's our turn to get in there and turn the tables.  It's like that radio program I messaged you about…the ummm…
UM:  Moretti Report.
RI:  Exactly!  When…at the point when they were…there was a three or four of them…and they were sharing ideas or making their own points about things…and each one wasn't necessarily agreeing about everything with the other, right?  And I'm listening to this and like I said, I'm shaking my head saying to myself "they get it".  What they were doing there…you can discount it or say it's not important but I'm telling you – IT IS important.  You have to realize how powerful that kind of thing is – it's…discussion like that…it is what every great movement in this country began with.  And that's what this is about here for me…it's about the beginning of a new Republican Party.   A new conservative movement…we aren't going to necessarily alter the message of what conservatism really is – but we do need to bring how we get that message out into the 21st Century.  Right?
UM:  I get what you're saying – not entirely sold on the premise…meaning not entirely sold on how effective it can be.
RI:  It's fine to be sceptical right now – you're still disappointed that we lost the election.  The White House.  I get that.  You're not alone there.  Right there with you on that – but my job is to figure out WHY Republicans lost – and a big part of that is we suck at messaging.  We do.  And until we accept that fact, and then work to improve on it…we are going to keep losing.  And it's going to get worse.  The Democrats want to make Republicans irrelevant, to make it just…to appear people have a choice when really…it's pretty much choosing from the same side of the same coin.  No difference…either big government liberalism or maybe a slightly less version of it.  And that's dangerous.  That is what…I want Americans to have a real choice.  When's the last real choice election…when have voters really had a choice?
UM:  This last election was a real choice.  Mitt Romney – Barack Obama?  Romney would have made a far better president.  Nothing you say is going to change my mind on that.
RI:  Ok-ok…right…but the big problem there was a lot of voters didn't see it that way.  Do you understand?  And that's because the Romney campaign didn't do a good enough job outlining what the choice really was.  The Mainstream Media confused voters, helped suppress the vote…then you have the Obama campaign…it had hundreds maybe thousands of operatives slamming the alternative media with their version of things, getting Republicans…conservative voters to fight amongst themselves…it all worked in unison with them.  The old media and the new media…they have it down to a science.  Barack Obama might be a fool, he might be some created version of liberal perfection…but the people behind his campaign.  They are good.  Very good at what they do.  And they are winning.  Not just the election…they are winning the country.  All of it.  And you can't tell me you don't feel that.  Right?
UM:  I do feel that, yeah.  America is…it's disappearing.  I see it.  Going-going…gone.
RI:  There you go…that's what's happening.  And if we don't learn quickly how to change it up…how to get a message out there…how to not demand perfection from a candidate…or to follow every ridiculous controversy or rumor or tin foil hat conspiracy that just divides us up even more…we will lose.  Republicans will lose.  Conservatism will lose.  America will lose.  America…America will…it will be just like you said…going-going…GONE.
PART TWO COMING SOON.
___________________________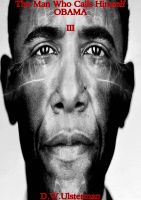 The all new bestselling series of Insider interviews by DW Ulsterman:
The Man Who Calls Himself Obama Volume III