The second half of our most recent sit down interview with Republican Insider…
_____________________________
…RI:  Ok-ok…right…but the big problem there was a lot of voters didn't see it that way.  Do you understand?  And that's because the Romney campaign didn't do a good enough job outlining what the choice really was.  The Mainstream Media confused voters, helped suppress the vote…then you have the Obama campaign…it had hundreds maybe thousands of operatives slamming the alternative media with their version of things, getting Republicans…conservative voters to fight amongst themselves…it all worked in unison with them.  The old media and the new media…they have it down to a science.  Barack Obama might be a fool, he might be some created version of liberal perfection…but the people behind his campaign.  They are good.  Very good at what they do.  And they are winning.  Not just the election…they are winning the country.  All of it.  And you can't tell me you don't feel that.  Right?
UM:  I do feel that, yeah.  America is…it's disappearing.  I see it.  Going-going…gone.
RI:  There you go…that's what's happening.  And if we don't learn quickly how to change it up…how to get a message out there…how to not demand perfection from a candidate…or to follow every ridiculous controversy or rumor or tin foil hat conspiracy that just divides us up even more…we will lose.  Republicans will lose.  Conservatism will lose.  America will lose.  America…America will…it will be just like you said…going-going…GONE.
UM:  But if we can't believe…believe the integrity of the vote… If people don't feel like their vote counts – why should they even bother?
RI:  Ahhhhhhhhhh…don't even go there!  C'mon!  Really?  That's the election loss talking.  You know, after every election there's people on the losing side who talk just like that.  Just like it.  Poor me.  Why should we even bother…it was stolen…boo-hoo-hoo.  I thought you were a lot tougher than that.  Your insider said you were.  But…well…if you really mean that…the whole why bother stuff…(shrugs)…why bother!
Go back to 2004  – Bush vs ummm…Bush vs John Kerry.  Now the polls…polls showing Kerry in the lead, or right there.  Then the exit polling showing he was going to win it…then he didn't.  Ohio was so close.  And who was saying that the Bush team stole it?  Democrats.  They were so upset.  All kinds of conspiracies about voting machines, and how wrong the exit polls were…basically the same thing we….same thing we are hearing now from some of the Republicans.  You know, for as much as they say they dislike liberals, we really do have a whole lot of so-called conservatives who only seem to do what they do best and that is to cry and moan about how things should be.  I'm not saying all conservatives, not even close to half, but enough of them and they like to make a lot of noise and throw their tantrums…and in the end…in the end…they don't do much if anything to actually help out.  Just the opposite, all of their cursing and negativity just turns the majority off.
(PAUSE)…And I'm not saying that is what you're doing.  Not at all.  You're asking questions that I have no problem with hearing and answering.
Look…really…I've gone over the numbers.  Yes, there were some abnormalities but you know what?  You get that in every big election.  Every time.  It's happened for Republicans, against Republicans, and everything in between.  The fact is, on Election Day…we have a ton of eyewitness accounts saying so…there was quite a big turnout for Barack Obama.  Now how they pulled that off…normally Democrats don't do that…not that much on Election Day.  But this time…they had huge Election Day turnout for them.  Did they bus them in?  Sure.  That's perfectly legit.  Republicans do that too – we just don't do it as well.  The phone banks.  The emails…the whole program was superior to what the Romney campaign was doing.  The RNC…it had plenty of cash.  It didn't use it nearly as effectively as it could have.  Or should have.  And Mitt Romney…he kind of became deflated toward those last days didn't he?  Wasn't fighting as hard.  I don't know why that was…but you can't deny that is what it appeared to be.  That last debate…Benghazi was…was it even mentioned by him?  Why didn't he push that issue?  Why did he allow Obama to push it back to after the election?
UM:  Now you stop right there. Right there.  You know damn well there was supposed to be a press conference.  I have to imagine Romney was in the loop on that, yeah?  And so he's waiting for it.  He's waiting for something that never came.  Something he was promised…never happened.  Bloody hurricane they said.  No time to get that political.  I say bullsh*t on that.  Bullsh*t.  We have an election with this socialist-communist…whatever the hell he is…and we got people…HE STUCK HIS NECK OUT FOR ALL OF US.  You KNOW that.  Maybe you told him…maybe you promised to put that together.  That press conference, yeah?  Something went horribly wrong in those last days.  Why does McCain come out AFTER the election to hold that press conference?  What good does that do NOW?  You want to talk about…you said that this Benghazi thing…or Petraeus…you said Republican leadership was helping to keep it under wraps.  Right?
RI:  Absolutely.
UM:  So why the bloody hell…why should we trust any damn one of you?  You tell me that.  WHY?  Why…why when I see somebody put so much at risk…risk exposure…risk…he's still in the White House.  Obama is still there now.  You know what that means for him.  For Insider?  You know…they won't respond, so I'm…I'm assuming they are…have to be worried.  And maybe YOU did that.  And these republicans.  So yeah – why bother?  What good does it really do?  When somebody is willing to risk a career, family, their life…and they get sh*t on by someone.  Somebody made that decision to leave them hanging like that.  To leave Mitt Romney waiting for something that never came – not before the election anyways.
RI:  I won't speak for them.  And I'm sure that sooner and not later they will be ready to speak for themselves.  I already said I would take a while to heal from something like that myself.  And…I still say the Romney team made their own decision on that…to not…ummm…not pursue the Benghazi story.  They should have.  Hurricane be damned…they should have.
As for Republicans who are…who aren't doing their job.  Or are playing way too much politics with issues like Benghazi…the politics of covering their self…I am in 100% agreement with you.  Look, don't for one second question my desire to see this party rebuild itself into a proper representiation of conservative values.  It's my life's work now.  So with all due respect – you have no idea what the work involves.  You don't.  I do.
UM:  (PAUSE)  With all DUE respect…you have no idea what the last two plus years have been like working day in and day out to defeat Barack Obama.  To see one partner in this battle waste away to nearly nothing…to see another one…well…to come up short and now live in such fear they won't even return my messages?  Who are you to say I don't have any idea?
RI:  I'm the one who your insider told to join up with this thing.  I'm the one who might be the only one left who can…I might be the only one left standing between you and THEM.  They'll come after me before they come after you.  That's why there has always been another.  Insider knew that.  Both of them did.
UM:  I don't even know what that's supposed to mean.
RI:  Sure you do.  You're just upset right now.  So am I. This was a tough loss.  For all of us.
UM:  Then why don't you show it?  You talk like…like it's just another election…and we have another one just around the corner so upward and onward and all that crap…I'm a positive person.  I am…but…this has been tough.  So damn tough to take…
RI:  I know…but pissing and moaning about it won't change the election.  It won't.  And there IS another election around the corner.  And there are some republicans trying to make this president accountable for what he's done.  But that stuff…in due time.  Things have to…positioning and patience.  That's how you win the marathon.  This isn't a sprint.
UM:  Ah jehhsus….(SIGHS)…enough with the…I can't take the flowery language.   The pep talk…don't want it.  Don't want to hear it.
RI:  What do you want then?
UM: …I want to smack you right f-ck in your face.  Right up in it.  And if not you…someone else.  Someone with an Obama 2012 sticker on their little sh-t Prius.  I'm so mad…I'm just bottling it up and it's driving me mad.  I still can't believe he won.  How?  Insider said the only way Obama wins is to steal it.  Well guess what then?  That's what happened, yeah.  Those bastards stole this thing from us.  All of us.  Every Republican vote…they stole it from us.  And they know it.  Look at them.  I can see it.  It's on their faces.  The smirks.  Makes me sick.  Every last one of them.  The whole lot of them.
RI:  You're upset – but you know that violence…it won't change the election either.  You're not some dumb hick…you're better than that.
UM:  Am I? Really?  And what do you know of that, eh?  You think I'm beyond planting you on your ass because of some well earned civility?  Is that it?  You sure you want to be so confident in that?  I'll tell you something…the others…I respect them.  They earned it with me.  All in.  They are gentlemen and warriors.  Trust them…trusted them with everything in this.  You?  You haven't earned it yet, yeah?  You're here because you were vouched for personally by one of those gentlemen.  But as of yet…you ain't fit to say their names.  And you ain't fit to place judgement on what I am or what I'm not.  You're in more dangerous waters than you seem to realize here mate – so start thinking a bit more about what you want to say and how you want to say it, because…well…right now I ain't feeling so civilized…and just a push more and you're going to be brickin' it.
RI:  Bricking it?
UM:  Look it up.  For future reference.  And your own personal well being.
RI: What?
UM: Look it up.
(LONG PAUSE)
…RI How about…how about you tell me what you want out of this?  The…this arrangement?
UM:  Truth.
RI:  Truth?
UM:  Yeah…that would be a nice start.
RI:  I haven't lied to you.
UM:  That might be right…but you haven't told the truth either.  Not all of it anyways. There's a difference between "not lying" and actually telling truth…politicians know all about that now don't they?
RI:  I suppose they do.  And…I can promise you that when it's available to share…you'll get the truth from me.  As best as I know it at that time.
UM:  Uh-huh.
RI:  If this is going to work…we need to respect one another here.  I can't be them…I'm my own person.  I do what I do.  I know what I know.  I think this can work…I think I have something of value…but…ummm…I'm not THEM.  I won't even try to pretend I could be.
UM:  No…you aren't.  And no…you won't ever be.  How about you just tell me something about what these Republicans are going to…to do anything about anything.  Benghazi?  Fast and Furious?  Eric Holder?  Solyndra?  None of it…it just gets brushed away.  Gone…Obama never seems to have to…no rules seem to apply to him and so many Republicans…they are too afraid to do anything about it.
RI:  That's not entirely true.  There were hearings.  Eric Holder was found in contempt.  More hearings.  Benghazi is not done…I told you that last week.  Things just don't move as quickly as any of us want.  Insider said the same thing.  Right?
UM:  Yeah…suppose they did.  Yeah.  Three years of work and waiting…and the bastard is re-elected.
RI:  Hey…after 2014…if we take back the Senate…things can happen.  Reid is shutting everything down.  Has been ever since Obama got in there.  But without the Senate…the White House becomes a whole lot more vulnerable.
UM:  Obama was vulnerable…he wasn't supposed to win in 2012.  But he did.
RI:  You can't lose faith.
UM: Faith?  God?  Yeah…starting to wonder about that too.  Why would God ever want Barack Obama to get away with these things?  What plan is that supposed to be part of?
RI:  Now I really know you don't mean that.  (PAUSE)  Tell you what…I completely understand your reservations to trust me right off the bat.  At least not completely.  But I give you my word, there are people working to undo some of the damage Barack Obama has done and would like to do…and those people are also determined to make him account for things like Benghazi.  Give me a couple weeks – maybe three.  You watch and wait…let me see what I can get done on my end.
UM:  (SHRUGS)  Don't really have a choice now do I?
RI:  We all have a choice…but I get what you mean.  Couple weeks.  See what happens over that time period.
(PAUSE)  Did you really want to hit me?
UM:  Yeah.
Still do…
END INTERVIEW
REPUBLICAN INSIDER: "America…Going-Going…GONE."
_______________________________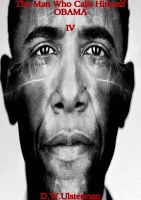 The President knows what we want him to know and nothing more. That works fine for him and that works even better for us. He doesn't return our calls and we don't return his.  Those exact words. So what we have is a small group of Congressional Democrats – the leadership, completely dismissing the obligation to working with the President of the United States and that same president, who also happens to be a Democrat as well, completely dismissing the obligation to work with Congress.  -WHITE HOUSE INSIDER
The Man Who Calls Himself Obama IV