To say reading the outline of this newly issued executive order by Barack Obama leaves me concerned is an understatement.  Not long ago, Insider warned that if Obama was to win re-election, he and his administration would then remain in control of the "the machine" and many would be left vulnerable to the implications of that fact.  It appears that warning is proving all too accurate now…
Thank you to the readers who sent this my way.
________________________
EXCERPT:  (via Canada Free Press)
Obama's memo on "insider threats"
On the day before Thanksgiving, Barack Hussein Obama issued a Presidential Memorandum, or an unofficial directive to the heads of departments and agencies under the executive branch. This Presidential Memorandum, the text of which is only 183 words, directs agency and department heads to establish a program "to deter, detect, and mitigate actions by employees who may represent a threat to national security."
Much like all of Obama's other directives, Executive Orders and findings, there is a disturbing level of ambiguity contained within this memorandum. One could correctly state that the obvious intent of this directive is to stop government employees from leaking classified information that would endanger the safety and security of our nation. While true, there appears to be a deliberate lack of specificity concerning the exact elements that constitute such an "insider threat."
…Taken to its extreme, it gives Barack Hussein Obama the ability to redefine what constitutes a threat to the government, including treason. It's no longer about the rule of law and one's allegiance to theUnited   States. It's now about allegiance to the agenda of the Executive branch, assured by active surveillance of government employees by Obama's hand-picked appointees.
This memorandum quietly inserts yet another plank in the framework for absolute control by Barack Hussein Obama. It is he, not laws enacted by congress or the workings of the judicial branch, who will now determine who and what constitutes an "insider threat." The mechanisms for reporting such threats are now in place, and actual or perceived threats to our government are to be identified and reported on by the very people he appointed to key government positions. It is the very essence of "Big Brother" within the government itself.
Everyone needs to wake up and understand exactly what's happening not only in theU.S., but across the world. We are witnessing the consolidation of power that historically precedes a war for absolute control.    LINK
____________________
'After we win this election, it's our turn. Payback time.    -Valerie Jarrett
____________________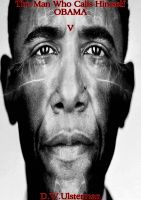 President Obama…the administration…the people around him…they have embraced chaos. They have implemented it at every opportunity. I do not believe it to be purposeful necessarily from the president – he does not possess the…full understanding of what he has done – continues to do…but those around him likely know exactly what they are doing. The goal – I am certain of this now…the goal is the destabilization of the American economy in the hopes of then picking up the pieces and putting it back together in their own image. This was done during the Roosevelt administration – the Great Depression. This was done following the assassination of John Kennedy, following Watergate, September 11th – and now they hope to do so again.   -WSI