Susan Rice, on the direction of the Obama White House, repeatedly lied to the American public regarding details of the Benghazi Massacre that left four Americans dead – including the first U.S. Ambassador to die on duty since the Carter administration.  Following a closed door meeting between Rice and Congressional leaders, it appears concerns over why she said what she said are increasing.
(Senator Kelly Ayotte, right, joined with Senators Graham and McCain in demanding real answers to the Benghazi Massacre and cover-up.) 
_________________________
EXCERPT: (via USA Today)
U.N. Ambassador Susan Rice met Tuesday with GOP lawmakers on Capitol Hill on the attack on the U.S. Consulate in Libya.
Rice's meeting with Sens. John McCain, Lindsay Graham and Kelly Ayotte on Capitol Hill came as the White House signaled it may nominate Rice to replace Hillary Rodham Clinton as secretary of State.
"It is clear the information she gave the American people was incorrect when she said that it was a spontaneous demonstration triggered by a hateful video," McCain told reporters after the meeting with Rice. "It was not, and there was compelling evidence at the time that that was certainly not the case."
"The bottom line is that I'm more disturbed than I was before … about how four Americans died in Benghazi, Libya," Graham said.
"I have many more questions that have to be answered," Ayotte said.   LINK
_____________________
I want readers to make note of Senator Kelly Ayotte in this article.  Senator Ayotte joined both Senator McCain and Senator Graham during their news conference that demanded answers on Benghazi that took place two weeks ago – the same news conference the Mainstream Media and some within the Democratic Party cited as evidence of racism and gender bias against Susan Rice by older white male Republicans.
Kelly Ayotte is a 44 year old woman from New Hampshire, a  former state Attorney General who received the support and endorsement of such prominent conservative figures as Sarah Palin when Ayotte ran and won her Senate seat in 2010.
Does that sound anything even remotely like an "older white male"?
NO – and that is why media reports purposely ignored Senator Ayotte's participation in the group of Senators who are demanding more answers on the Benghazi Massacre and Susan Rice's participation in what appears increasingly like an Obama administration cover up.  Senator Ayotte's concerns regarding Susan Rice have nothing to do with Rice being a woman – but rather with Susan Rice being a willing liar and accomplice in a cover up.
For that she should be congratulated – not ignored.
_____________________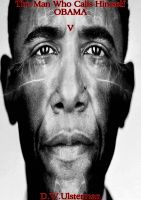 Oh man…I wish I could see the world through your eyes for just a day…idealistic son-of-a-b-tch…No disrespect son…but you don't know ME. You really don't…you don't know the things…you don't know what I'm capable of…what…Jesus Lord…the things I've DONE."  -INSIDER 
The Man Who Calls Himself OBAMA V
"THE INSIDER SERIES IS ABOUT AS GOOD AS IT GETS FOR FINDING THE REAL TRUTH ABOUT OBAMA!!!"    -MEL