"That election was TAKEN from the American people.  I don't care what you have to say on that…I've been around you know?  I've seen a few things you know?  And this…this election was STOLEN.  STOLEN.  STOLEN.  I'll go to my grave knowin' that… "   -WHI
________________________________
So it has been several weeks now since Barack Obama secured a second term as President of  the United States by defeating Mitt Romney.  Very soon after that defeat, following some two years of dedication toward making Obama a "one and done" president, White House Insider retreated from our regular communications, instead passing me off to another we call Republican Insider, a person whose goal it is to rebuild the Republican Party after years of that political party neglecting its own conservative principles and the desires of its supporters.  Following some initial interviews with RI, he indicated he was receiving word back from WHI of their unhappiness with our interviews – that basically, we  "weren't getting it right", and suggested all of us schedule time to sit down together to have a REAL discussion about the REAL issues now facing America and its people.  I quickly agreed.  So too did RI.  Following the now familiar pattern that is their own often volatile nature, WHI then backed away from the very proposal they had made just days earlier. Then, just as quickly as they had refused, they once again agreed.  It is unclear if that sudden agreement came entirely on their own, or at the urging of someone else.  Regardless,  here now is that conversation between these two individuals, with myself attempting to act (poorly) as moderator – one who remains optimistic that the future of the country can be saved, and the other who is increasingly certain it's "done and done" – and that generations to follow will likely never know the American promise that has now, according to them,  all but been extinguished.
I wish to extend my sincere gratitude to both individuals.  This conversation more than lived up to my own expectations even if at times keeping it from descending into outright conflict proved difficult.   There are some hard truths here – and certainly much that some readers will not wish to hear.  What is certain now is that no easy fix is before us – America is in peril, and the only thing that matters is how we respond to that peril.  Do we give up?  Or do we continue to fight?          -UM
________________________
PART ONE:
UM:  Thank you both for meeting here today.  Much appreciated.
RI:  I want to thank –deleted- for coming up with the idea in the first place!  I think this is a great idea…give people the opportunity to really get a taste of the kinds of conversations being had inside the party right now.  There's a lot of talking…a lot of soul-searching.  So why not share that in this kind of…forum.  So thank you too.
WHI:  People are talking huh?  Republicans are talking?  Well…ain't that just…soul searching?  Really?  Is that what it is?  That's what's goin' on now huh?
RI:  Yes – in many ways, absolutely.  There are some new voices finally having a chance to speak up.  That's long overdue.
WHI:  What the f-ck are you on about?  "New voices"?  Really?  Didn't John-boy just push some of those voices off the table? (Note:  WHI made this remark a day BEFORE the story came out in the media)  He's kissing the ass of this Obama White House every chance he gets.  F-ck him.  F-ck you.  F-ck your bullsh-t "soul searching" nonsense.  Buncha pig sh-t all of it.
(Long Pause)
UM:  Ok…that was…not the start I was hoping for here.  Perhaps—-
RI:  It's fine!  Really!  What they are saying is what a lot of people are feeling right now.  That's fine.  Say it!  I have no problem hearing that right now.  Look…ummm…this election was….it was a tough one.  Let's not try and make it out to be better than it is.  I get that.  I really do.  The party…it ran…ummm…ran an ok campaign when it needed to be a great campaign.  It picked an ok candidate when it needed to pick….pick a great candidate.  And so we lost.  The Republican Party is…it's adrift right now.  That's not necessarily a bad thing…gives us a chance to…people are shaken up.  So hopefully that leads to them waking up.  And from there…ummm…we can rebuild.
UM:  What candidate would have been—-
WHI:  —NO.  I'm cutting in here.  Didn't come here to listen to him…or listen to you.  Came here to speak my mind. That's what you said you wanted.  So he can shut up.  You both can shut up and listen.  I've been doin' this for longer than…hell of a lot longer than him.  I've seen good and I've seen bad.  This last election?  It…haven't seen THAT.
You are talking about we should have done this?  Should have done that?  F-ck you.  And I mean every letter of that son.  F-ck YOU.  That election was TAKEN from the American people.  I don't care what you have to say on that…I've been around you know?  I've seen a few things you know?  And this…this election was STOLEN.  STOLEN.  STOLEN.  I'll go to my grave knowin' that… A precinct here.  County there.  BAM!  They got their swing states.  The numbers…Election Night…no WAY those numbers lined up. NO F-CKING WAY.  So you can try and pour perfume over that pile of sh-t election, but it still smells like sh-t.  And there's a whole lot of us who smell it, and we ain't all sufferin' some…some kind of mass hysteria on this one.
UM:  (Speaking to RI)  So what about that?  There is a lot of evidence that at least suggests the possibility Obama stole the election.  You agree with that, right?
RI:  We keep walking back over this grave and the result will always be the same on this.  The truth will stay buried, one way or the other.  Could there have been some…theft?  Or irregularities?  Sure.  I'll say there were, like any election.  Certainly any national election.  But…the fact remains…the real fact remains…voter turnout was not enough on the Republican side.  Obama's turnout was considerably less in 2012 than 2008 but we still lost.  Not because…ummm…not entirely because of possible fraud…but more likely because a whole lot of voters just…either didn't vote or in the end…they voted for Obama.
(Pause)…Let me say it this way.  Now…both of you would agree that ummm…a whole lot of money came into the Romney campaign, right?  A whole lot of money from some very powerful people, groups…organizations…right?
(UM nods head – WHI ignores question)
RI:  So…if there was actually verifiable election fraud…that could be proven…ummm…don't you think those kinds of people who had just spent millions and millions of dollars supporting Mitt Romney…don't you think they'd be working to uncover that kind of fraud?  Just a few of them together…they have the resources…the power to make that happen, right?  Congressman West…he did a smaller version of that…those counties that you called out very early in the process. (WHI)  I have to tip my hat to you there…you called that way before anyone else did.  But even then…nothing was proven.  West conceded.  He lost…just like Mitt Romney lost against Obama.
(Pause)  I have to deal with what I have the power to influence.  Chasing a conspiracy…whether or not…ummm…maybe votes were miscounted.  Stolen.  Whatever.  I don't have the power to prove that.  Or change that.  And the ones who do…who might…they apparently didn't believe that kind of….ummm…election fraud actually occurred.  Or at least not enough of it that it was the deciding factor of this election.  And I would agree with them on that…some stolen votes here and there…I just don't think it was the difference.  The real difference was…heck…I just saw a report out that said turnout among white male voters was way down in 2012.  Across the board.  Now what we need to be doing here…and I certainly have my own thoughts on why that kind of thing happened…what we need to be doing is asking ourselves why that happened.  Why didn't the Republican nominee appeal to more of those voters?  What message are we not sending out there to appeal to more people?  Do we need a change in leadership inside the party?  Things like that – things we can actually control.  That's my focus.  If the millionaires and billionaires who invested so much in Mitt Romney don't think there is enough evidence of election fraud to pursue it…I sure as heck can't afford to waste any time or resources thinking I can.
WHI:  Bullsh-t.  People should be…this…it can't stand.  We let it….FINE.  Then we don't deserve this country.
RI:  I'm not about to give up because of my own hurt feelings or disappointment…we need to do what we can to salvage this thing…America…for the next generations.  I'm not going to pass judgment on whether or not they "deserve it" before they even have had a chance to experience it.
WHI:  Next generations?  Really?  Those pathetic…did you see the numbers on the youth vote for Obama?  Give me a f-cking break!  All he did was promise a lower interest rate…student loans…some gay marriage bullsh-t…if those assh-les are the future of this country…they can have it.
F-ck them too.  Little commie suckin' –deleted-.
RI:  You don't mean that.  That's your frustration talking.
WHI:  DON'T YOU TELL ME WHAT I MEAN.  I WILL KICK THE SH-T OUT OF YOU SON.  DON'T DOUBT ME ON THAT.  I'M SITTING ON THE RAZOR'S EDGE RIGHT NOW AND IF YOU SAY THE WRONG THING, IT AIN'T ME THAT'S GETTIN' CUT.
UM:  Ok…let's refocus—–
RI: (Puts hand up toward UM)  No…hold on.  (Turns and faces WHI) …I think you mistake me for someone easily intimidated.  I respect your work.  Always have.  We both know personally…you've had your issues, and I think that part of your personality is really debilitating your common sense right now.  And you and I both know I'm not the first one to tell you that.  So don't let my respect of what you've done in this business…make you think I can be intimidated by you.  Don't stoop to that level, ok?  Man up.
…Show some respect.  Not for me necessarily, but for yourself.  I think I made a mistake in letting –deleted- threaten me last time we spoke.  Maybe you think I normally allow or am ok with those kinds of threats.  I don't. I'm not… So I'm asking that you not engage in that kind of behavior.  This isn't about you…it isn't about us.  This is a much bigger picture situation we have going here, right?
WHI:  Did you just tell ME to MAN UP?
RI:  Ummm…yes…I did.
(Long Pause)
WHI:  (Leans into RI) Well ok then…now we're having a conversation here!  Looks like your berries finally dropped boy!  Ok…ok…you wanna talk huh?
(Points to UM)  You up for this?  You ready for this?  So we all want to have a…real conversation huh?  Well pickle my pecker…let's go on and do it.
LET'S HAVE US A TALK THEN BOYS…
_________________________
PART TWO COMING SOON:
-Did Obama purposely alter the internals being used by the Romney campaign?
-WHI breaks RI open
-How Barack Obama really won 2012
-RI admits and shares his own belief in a globalist conspiracy theory dating back to the election of 1960 – and warns Obama is not the end of the global socialist agenda, but only the gateway for what they fear is coming next unless they are stopped – and that battle now begins with the 2014 election.
-RI lays the blame at the feet of Rockefeller Republicans and WHI and others who spent years working for the globalist Big Government agenda…
________________________
The Bestselling Insider Interview Series Now Available via eBook!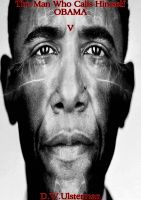 The Man Who Calls Himself OBAMA V
Insider: Yeah boy…right the f-ck through him. He didn't recognize…my friend…he had been introduced to Obama not more than a day before. He was helping organize the whole fu–ing event there in Denver. He spoke to the president…to the nominee…probably for about ten minutes. And there was nothing odd at that time…Obama seemed like what everybody saw in public. Not what my friend saw go into that room…or what he saw come out of that room. And Barack Obama – my friend was very…he made a point of emphasis there – Barack Obama did not recognize him in the hall. Not a clue. He smiled down at him, shook his hand…kept repeating thank you over and over again…and his eyes were always blinking. Fast.   LINK