The second installment of an emotionally charged conversation between two political operatives with often opposing views on the real reasons why Mitt Romney lost the election to Barack Obama – and who really is to blame…
(Recent media reporting suggests the internal polling used by Mitt Romney was simply inaccurate.  A Republican insider suggests those inaccuracies were intentionally orchestrated by Obama operatives at great expense to the Romney campaign.)
_________________________________
Part One of this interview is available  HERE
_________________________________
…WHI:  (Leans into RI) Well ok then…now we're having a conversation here!  Looks like your berries finally dropped boy!  Ok…ok…you wanna talk huh?
(Points to UM)  You up for this?  You ready for this?  So we all want to have a…real conversation huh?  Well pickle my pecker…let's go on and do it.
LET'S HAVE US A TALK THEN BOYS…
RI:  That's what we came here for…so…yeah…let's—-
WHI:  (Interrupts) —I'll start. You listen.  Then you answer.  How about that?
RI:  Sure…but I have some questions…ummm…some comments for you too.
WHI:  Whatever son…you listen.  I'll talk…
We lost this election by…how did the Old Man put it?  By any means necessary right? …Obama got his second term.  (Pause) …Ok then.  I say stolen.  You say maybe…but we can't prove it.  And yeah…ok…you are right about that I-I guess.  The laws set up to make that…it's a real tough thing.  You can have recounts…but…on a national level…charging fraud….election fraud…tough to do.  The system is rigged to make it tough right from the start.
RI:  Exactly.  So we agree on this at least.
WHI:  Now hold up…we don't agree on one big fundamental f-cking point here.  This election was STOLEN.  PERIOD. You want to say maybe it was maybe it wasn't.  I say yes it was.  Been over the numbers a thousand times…what we had weeks and days heading into the election…that wave that broke Obama's way on Election Day…hell no.  Hell no.  Hell no.  No way that happened like that.  Not for real.  They stole it.  And here's where I get so pissed at your party…Republicans.  Now if this was reversed for us here…if it was Dems who felt like it was stolen…you'd have twenty, thirty members of Congress screaming that very thing on the TV, day after day.  They would be rilin' up the base…there would be marches in DC, protests…why is it you Republicans are so damn…so f-ckin' POLITE about having this election taken from you?  Makes me wonder…makes me wonder…
UM:  What do you mean wonder?  About what?  What are you implying by that?
WHI:  These boys take a dive?  That's what I mean.  A shadow punch – that what we have here?  I mean not a WHISPER about voter fraud?  Really? Now I'm not charging the Romney team with this…I know how stunned they were.  Election Night…they were genuinely shocked.  The governor…he was…handled it great.  Lot of dignity and all that…but outside the campaign…the RNC…some state organizations….something fishy there.  Something not right.  I'll give you the fact proving it is…it would be damn near impossible…but that don't change my mind none on it.  STOLEN.  And I already said it weeks ago…the Obama team, or whoever, whatever is behind it…they needed help to pull it off.  That help had to come from inside the Republican operation.  How far…how deep…don't know.   And YOU (points to RI)…YOU want to just shrug it off?  I know you seen some of those numbers too…it's all out of whack.  There's always irregularities…yeah-yeah…I been there and done that myself.  Not proud of it…but sure…done it.  These damn computers though…what…how easy can it be done now?  On a much larger scale than I've ever been involved in?  And what was given to make some people look away?
RI:  Can I say something here?  (looks to UM)
UM:  Please – go ahead.
RI:  First…ummm…we have some agreement here on the idea that proving it is…I would say at this point…impossible.  You are implying that there was widespread election fraud.  Now if I recall it was you who said…I think it was you…you said that for a Republican to win by one they have to actually win by three, right?
WHI:  I say that?  Don't remember.
RI:  Doesn't matter – is that…does that sound about right?  If a Republican is to win by one – they have to actually win by three.  Right?
WHI:  Sure…national election…some of these states…sure.  I'll go along with that.
RI:  Ok…if that has been the established rule for some time…and we had a close election…2012…ummm…it seems very likely that Mitt Romney did not get his actual numbers to that 3% margin…so he lost.  Maybe he was only up by one, or at the most two…so he lost the election.  And I'm…(pause)…I don't want to join you on the conspiracy plank here but—-
WHI (Interrupts)—Now there you go…that is a big part of why we are HERE see?  We can say things…share information…that we couldn't normally do, right?  So YOU man up now…and speak your damn mind boy.  I didn't bring you in to this thing here…without knowin' you got a sharp mind for how this works.  I'm from a different era…you…I'll give you this – you know your sh-t.  But you gotta share what you know.  Stop playin' nice.  Speak your mind.  This uh…this here…that's what it's for.  So just say what you wanna say.  They left Romney hangin' didn't they?  I could feel that on Election Night.
RI:  Maybe…but where I was going to go…it involves you.  Directly.  And I don't want you blowing up here.  But…there's been something bothering me…ummm…weeks out.  I sensed the possibility you were…ummm…misinformed.  And it was deliberate.  And that you were…being…being played.
WHI:  What the hell you on about?  Played?  Me? (leans back – opens arms wide)  Well do tell now son.  Do tell.
RI:  Your internals data.  You trust those?  Completely?
WHI:  That wasn't "my data" – the Romney team ordered those up.  And yeah…why wouldn't I trust those?
RI:  That data…ummm…it showed Romney with comfortable margins in a lot of states…strong momentum in some swing states?  Correct?  That was…ummm..you shared that here, right?  I recall you sounding very optimistic.
WHI:  Yeah.  What of it?
RI:  But…you were wrong.  Or…the data was wrong.  You admit that?
WHI:  NO.  I already said…the STOLE the motherf-cker.  The election.
RI:  All right…hold on. I want you to suspend your belief in that conspiracy for just a minute and go with something I've been pondering on all this.  Now I was told the Romney team…they kind of ummm…stopped fighting hard the last couple…last few weeks.  And watching it…granted I was on the outside looking in…but what I saw…ummm…confirmed that.  They didn't go hard on Benghazi. They backed off it. They refused to really go after the president…they just campaigned from state to state without really…they didn't really draw a hard line of distinction and I think that was a critical mistake.
WHI:  You're talkin' tactics…what does that have to do with the internals?  Got my attention here now…so you flesh this out.  What you gettin' at here?
RI:  I had actually mentioned this to you earlier…a few weeks from the election.  When the Romney team started to make a play on Pennsylvania.  Do you remember that?
WHI:  Not really…no.
RI:  -Deleted-
WHI:  Right…got it.  Yeah…I dismissed it.  Thought you were being…paranoid.
RI:  And what was the result in Pennsylvania?  What were the actual numbers?  Five – four points?  Somewhere in there, right?
WHI:  Yeah.
RI:  Wasn't even close.  But your internals…they showed this shift in Pennsylvania, right?  Big shift for Romney…so the campaign, it dumped money there in the final weeks.  Spent time there.  Was spreading itself thin and leaving off…leaving less time for other swing states where it might have still had a legitimate shot at winning.
I want you to tell me how off the internals were in Pennsylvania.  Just that one example.  How much…what was the difference there?  Because I think this might have something to do with how quickly the Romney team…how they conceded so quick…I think they realized something you have been fighting with yourself not to.  I think they realized it right away.
WHI:  You gettin' in my head with this?  What's your point?
RI:  I didn't want to go here with you because it doesn't…there's nothing we can do.  The election is over.  I don't take pleasure in…
WHI:—Just get on with hit.  You want to know how far off the numbers were.  The internals and Pennsylvania.
RI:  How far off?
WHI:  (Pause)  Same margin…the internals…month out we were about three back.  With a week to go they were telling us it was within a point give or take.  So with that momentum…the margins of undecideds that break for the challenger…we really thought Pennsylvania was…I mean why wouldn't they think that?
RI:  And you had said…with (Ulsterman) you had said the Romney team was leaking their internals to the Obama camp.  Rubbing their noses in it.  Right?
WHI:  Yeah.  I did.  They were…yeah.  I was for sure…
RI:  You thought you were getting in their head.  You were hearing back that you were getting in their head, right?
WHI:  YES…
(Note:  This was a critical point in the conversation between these two operatives – a clear look of dejection came over WHI…they leaned down and placed their head into their hands.  And true to their word, RI appeared to be taking no pleasure in the moment.)
WHI: They bought up the f-cking internals?  Is that what you are laying out here?
RI:  Yes…and I think that is far more likely than a huge fraud operation on Election Day.  Again…(puts hands up) I am NOT saying some fraud didn't occur. But…if you take the margin of victory that Obama was given…and put that directly up against those internal poll numbers…It's far easier for me to believe it was those internals that were corrupted much more than the millions and millions of votes.
(Pause) I'm saying…ummm…Barack Obama had this thing won the whole way.  Mitt Romney never had a real chance…those internals…they were a lie.  A manipulation…and you…you were part of that.  You bought into those numbers…you embraced those numbers…they all did.  They were outplayed.  The Romney team…they didn't know how to play dirty like this.  They became overconfident…complacent…waiting on a press conference that was delayed until AFTER the election…you know all about that.
So the Romney campaign pays hundreds of thousands for those internals…the Obama campaign…they pay…or promise to pay…pay them MILLIONS to come up with internals that make the Romney team think they are winning this thing.  There's already been reports saying the Romney team was relying on bad internal polling – but what I'm saying here…that the polling was INTENTIONALLY bad, umm…inaccurate…and it was made so by the direct involvement of the Obama campaign…And while you are leaking those internal results back to the Obama operatives…thinking you're messing with them…all you did was confirm to them that what they had set up was working perfectly.  What are we taught…what must a campaign have in order to form a competent operation?  Beyond the candidate itself, and funding…what must we have to ensure success?
(Long Pause)
WHI:  Information.
RI:  What kind of information?
WHI:  Accurate….accurate information.
RI:  Exactly?  To act – to react effectively…it all requires good campaign intel.  How about Virginia?  What did your internals show there?  Was Romney ahead?
WHI:  Yeah – by…by as much as three.
RI:  And on Election Night…when ummm…when Virginia wasn't breaking for Romney—-
WHI: (Interrupts)—I knew we were f-cked.
RI:  And you were.  We all were.
UM:  So you really think Mitt Romney never had a chance to win?  That Obama was unbeatable?
RI:  What did I say to you the first time we spoke on that?  My thoughts on Mitt Romney as the candidate at this particular time?
UM: That…you didn't think he was the right candidate.
RI:  I said he didn't provide a clear enough distinction…a real choice between himself and Barack Obama.  That his history on healthcare mandates…abortion…immigration…it made the job much more difficult.  I'll expand on that a bit here…ummm…basically, the Republicans thought they could simply run against Barack Obama, right?  The problem is…that when Mitt Romney won the nomination…in so many ways he was Barack Obama…it was easy for them…the media…the Democrats…to ummm…muddy up the waters so to speak.  And so that made…Romney became much more passive in the General  Election than he was in the primaries…because he was…or his advisers were…afraid to distance themselves from Obama.  To really go after him because Mitt Romney had some very critical examples in his own political career that seemed to compliment Barack Obama's own policies.  During the primaries…Rick Santorum warned everyone about this.  He was right.  I knew it then.  But nobody wanted to listen.  Nobody…the RNC…it wanted Mitt Romney.  Then…see what it has done now…its thrown Romney to the curb.  I'm still looking into that…
UM: (Turns to WHI)…So…do you…agree with what he's saying here?  About the internals?  Were you fed bad information?
WHI:  (Extends arm fully and points at RI)  THAT is why I brought them to you.  I ain't sayin' I'm buyin' this completely…but yeah…I should of….f-ck…should have seen this.  Godd-mmit!  Those motherf-cking Obama…I hate this White House.  I hate that campaign.  I hate the stupid f-cking voters…all of them who fall for his bullsh-t.  Guess that includes me…
UM:  (Turns to RI) So why didn't you try and…warn them?  Stop it from happening?  And wouldn't this ruin the reputations of those polling firms?
RI:  First – I did!  People became tired of hearing it.  The candidate was chosen…ummm…I wasn't part of the campaign team…so…look ummm…me and the Republican leadership…we don't agree on a whole lot.  I'm one of those ummm…troublemakers?  I think the leadership needs to change.  I think…I KNOW the messaging coming from the party has been horrible for a long time.  The fact is…and I've said this to a lot of people in recent years…voters don't…right now…voters don't have a Republican Party to vote for.  They have the far left Democratic Party…and they have the not quite as far left Democratic Party which calls itself Republican. And so because of that…voters get confused, they get agitated…they get angry…lose focus…and that allows somebody like Barack Obama and his handlers and the media to just manipulate them…divide them…and in the end…the Democrats win and we lose.  As for reputations…the polling firms…it would be very tough to prove actual, ummm…intentional wrongdoing – especially if most or all were in on it.  They can counter suspicion by simply saying ummm…it was bad sampling.  An error – not intentional…just a misjudgement of the electorate.  And they have the national polling data to back them up on that.  The orchestration of it all…just from an operative's perspective…incredible.
WHI:  I want you to explain to me…the bad internals…ok then.  You might have got that right…BUT…how does that explain the election?  How does that explain…how people still re-elected that piece of sh-t?  Can you please tell me that 'cause my head still can't wrap itself around that one.  I'll give you that the Romney team wasn't as good as I thought…fine…fine.  I still say it's a damn shame…a good man and my heart says he woulda been a good president.  So if I can see that…why the f-ck didn't the voters?  And don't give me a talk on "messaging".  I GET IT.  That ain't it…there's gotta to be more to it than just…the damn message.  (Inaudible)  —to the polls?  How does that not happen?  Tell me HOW they f-cking did it because I don't KNOW and it's driving me up the godd-mn wall!  How did these motherf-ckers pull this off?  You want to take fraud off the table…you want to say we got…that the Obama machine bought up the same damn internals we were using…that ain't enough to get somebody as bad as this guy re-elected.  It isn't.  It sure as hell can help – but it isn't enough….So can you please tell me how they did it?  I don't got the answers.  Guess I never did.  Guess I'm as used up as people have been saying about me for years.  You're the new generation in this…you're the smart guy now…you TELL ME.  Tell me how they did it.  I want you to break it open for me.  Break yourself open…Don't worry about offending someone…that's why we got THIS.  See?  You can say whatever the f-ck you want.  So say it.  TELL ME.  Please.  Make – me –  under – stand.  'Cause I can't go out like this…Jesus Lord…I left a big part of me dead and gone on November 6th…and it's killin' the rest of me.
…I just got to know how this thing happened.  If they didn't steal it…not enough of it…how the f-ck did they do it?  Break it open son.  Please.  And where do we go from here?  How do we fix this?  Because this old boy (shrugs)…he don't know.  I'm swimming in waters…f-ck it.  Let's face it…it seems I forgot how to swim.  Yeah…been drowning since November 6th.  So you tell us now how we keep our heads above water…'cause we are ALL drownin' now.
(Prolonged Silence)
UM:..So tell us how the Obama White House won the election.  According to you…you don't seem to believe that election fraud was the deciding factor.  You tell us that the Romney campaign was duped into believing false internals.  But I agree with (WHI)…there has to be more to it than that.  If you take fraud off the table like he said…how did they win the election?
RI:  (Points at WHI) …this election was a long time coming and it was people like HIM who set it up.  HIS Democratic Party…HIS friends…maybe now we'll ummm…we'll call them former friends – in the media.  The entertainment world….they all played their part in this.  The danger to the United States right now…it's all of them…it's a lack of education among the public…it's greed.  And like I said…it's been a long time in the making…and unfortunately…my own Republican Party has played a part in this as well.  I can think of 1980…when the Reagan campaign following a meeting with the Rockefeller wing of the party, agreed to take on George H.W. Bush as their VP choice…we could go back to the election of Kennedy in 1960…Chicago…the manipulation that took place with the 3rd party nonsense that set up Clinton in 1992…YOU (again points to WHI) helped set that up…you couldn't defeat Barack Obama because Barack Obama is the culmination of your own life of work.  Not that you knew it at the time…but that's the reality.  You were fighting yourself these last two years.  That Obama machine you talk so much about…you helped provide the foundation.  And I think that's a big part of what has you so upset…you know that.  You haven't wanted to say it…but you know that's the truth.  And I'll add this to that…until you come to terms with that…you won't get past it.  You won't ever really be a part of defeating what Barack Obama and the people around him stand for.  And until the Republican Party—
UM: (Interrupts)—Time out.  Need to refocus this again.  (WHI) asked something I want to get an answer to…and that is how Barack Obama won, but you're going off on past elections and presidents…so can you…how about I ask you some specific questions and you give me some specific answers and please try and make them brief, yeah?  I like that you're loosening up here enough and throwing some interesting theories out there…we just need to keep it focused to people can follow along.  Otherwise, it does not good, yeah?  That make sense—-
(As I was finishing up my request to RI, WHI stood up and walked quickly over to RI and stood directly above him – which…given the high emotion earlier in the conversation, and the most recent accusations by RI against WHI, made me concerned enough for the physical well being of RI to rise from my own seat in order to step between the two if need be.  WHI then said the following in a tone best described as a "hiss" – the words coming out between clenched teeth.  I cautiously attempted to put my hand on their arm to but WHI's left hand clasped quickly around my own wrist and held my hand away while he extended the pointing finger of his right hand into the face of RI.  I will say this for him – WHI possesses far more physical strength than I would have thought, and the moment certainly took the interview into the territory of the surreal)
WHI:  You don't leave this room until I hear you explain what you just said.  You wanna make those…that kind of f-cking accusation…then you explain what you mean.  You owe me that.  Man to man…you tell me what you mean by my being to blame for Barack f-ckin' Obama.  You gettin' up in my grits now boy…so you start talkin'.  Got my FULL attention son…so I wanna hear what you are on about with that line of bullsh-t you just laid out to me there.  Understand?  YOU man the f-ck up now…and tell me what you meant by all that.
(To his credit, RI remained incredibly calm, at least outwardly, to WHI's obvious rage over what RI had just said about him.  He leaned back in his seat, folded his hands on his lap, and replied.  As RI was doing that, I was attempting to pull my wrist from WHI's grip while placing my other hand on his shoulder.  WHI's grip did not loosen though, and as I felt how tense WHI's shoulder was I started to wonder if I would even be able to pull him off of RI in time if it actually came to that.  Surprise-surprise – WHI has some thirty years on me – but the DUDE IS STRONG)
RI:  I'd be happy to -deleted-.  As soon as you sit back down, if you have the time to hear it…I'll give you my explanation of how Barack Obama won.  How you and others like you… helped to make that happen.  Sure.  Ok?  Just…go ahead and sit back down and let's keep talking.  Just make sure you listen.  If more people were actually listening with open ears and open minds…ummm…we wouldn't be in the mess we are now.  And I'm not blaming you…just saying you played a part in it.  Ok?  So stop with the intimidation tactics again…let's sit down like adults and listen to what each other has to say.  I'm happy to explain that, ummm…explain that for you.
WHI:  Uh-huh…bet you're happy to have me sit back down.  Little know it all prick.  -Inaudible-  motherf-cker.  You ain't never even been to the big show.  I'm so sick of Northeasters tellin' MY people what WE know and don't know.  You ain't no better than me son.  And your time will come too…when you got blood on those soft little white hands of yours…just you wait.  Things won't seem so cut and dry then…just you wait.  So I'm gonna go back on over here and sit on down.
…And you're gonna talk.
(WHI turned his head to me as he walked back to his seat and WINKED.  The bastard actually WINKED at me!  I'm shaking my head and smiling as I write about it now.  Big brass ones this…)
END PART TWO – PART THREE COMING SOON…
___________________________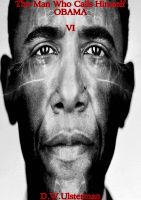 Volume Six of the bestelling Insider series of interviews now available!  LINK
Volume Six in the ongoing bestselling series of political insider interviews that rips the deceptive cover off the Obama White House – the radicalized progressive agenda, the infighting among White House staff and other political leaders, and a shocking tale of a young Barack Obama's behavior during a gathering of Chicago political elites.
The Man Who Calls Himself Obama VI