Thank you to the reader who sent this my way.  The often interesting Lame Cherry points to a recent NY Times article that outlines and implicates the Obama administration's role in helping to arm Islamic militant groups.  A quick disclaimer to those who have voiced dislike for the method of Lame Cherry's communications…read past the profanity and focus instead on the actual content.  This example in particular has something important to say…
EXCERPT (via Lame Cherry)
New York Times has confirmed the major points of this blog in B. Hussein Obama was funneling weapons to al Qaeda in Libya and these weapons have now transferred to Syria.
The spin in the Times proves a desperation in the Obama regime is now blaming Qatar for all of this, and no mention is being made of  Turkey or other more powerful sources.
________________
Within weeks of endorsing Qatar's plan to send weapons there in spring 2011, the White House began receiving reports that they were going to Islamic militant groups.
Some of the arms since have been moved from Libya to militants with ties to Al Qaeda in Mali, where radical jihadi factions have imposed Shariah law in the northern part of the country, the former Defense Department official said. Others have gone to Syria, according to several American and foreign officials and arms traders. 
After discussions among members of the National Security Council, the Obama administration backed the arms shipments from both countries, according to two former administration officials briefed on the talks.  -New York Times
_________________
That is the smoking gun in this my children. This is a direct admission and direct confession that the Obama regime violated the law.    Full Lame Cherry Article Here
________________________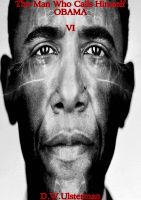 The Man Who Calls Himself Obama VI
Volume Six in the ongoing bestselling series of political insider interviews that rips the deceptive cover off the Obama White House – the radicalized progressive agenda, the infighting among White House staff and other political leaders, and a shocking tale of a young Barack Obama's behavior during a gathering of Chicago political elites.   LINK