Volume Six in the ongoing bestselling series of political insider interviews that rips the deceptive cover off the Obama White House – the radicalized progressive agenda, the infighting among White House staff and other political leaders, and a shocking tale of a young Barack Obama's behavior during a gathering of Chicago political elites.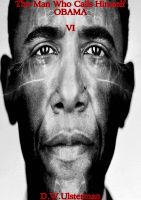 When I looked back up at his face the smile was long gone. He looked really angry at me now. He asked me again if I was ok but he said it in a way that really spooked me. There was something in his voice that scared me. Really bad. And it was at that exact moment I finally recognized his face as the author and political candidate Barack Obama. I was just about to turn and walk as fast as I could out of the hallway when the door opened wider and another black man's face poked out. He said, "What the F is going on B?" The guy I now recognized as Obama stepped all the way out of the hall and closed the door behind him, leaving the other man inside the conference room. He asked me again if I was all right. Now he was standing right over me. He smiled again and I noticed one of his front teeth seemed to have a chip in it, or it was a lot shorter than the other one. He must have had work done because the pictures of him today don't show that. I don't know why I noticed that so much or why it has stuck with me but it has. And his breath smelled really bad. It made me want to gag it was so bad. I told him I was fine and did a kind of half walk half run down the hall and back into the main lobby. I looked back right before I turned the corner and could make out Barack Obama still standing in the darkness of the hallway looking back at me. It was very-very creepy.
Go to link for access to full book!