The infamous, (and sadly all too accurate in 2012) pollster Nate Silver indicates in a New York Times article that Alaska is making a significant shift away from the Republican Party and toward the Democratic Party.  Is this hopeful thinking or based in fact?  You decide…
(The liberal horde – coming to a conservative state near you…) 
_____________________
EXCERPT:  (via New York Times)
Alaska: Future Swing State?
The state where President Obama most improved his performance from 2008 was Alaska. He lost it by "only" 14 percentage points this year, considerably less than his 22-point margin of defeat in 2008.
Part of the reason is that the former governor of Alaska, Sarah Palin, was on the Republican ticket in 2008 but was not this year. That probably doesn't explain all of the shift, however.
Consider that in 2000 — also without Ms. Palin on the ballot — the Democratic nominee, Al Gore, lost Alaska by 31 points.
…Alaska's population is also changing; between 2010 and 2011, Alaska had thethird-highest population growth rate in the country, trailing only Texas and Utah.
Where are those new Alaskans coming from? Many are from liberal states on the West Coast. Between 2005 and 2009, about 4,300 Californians moved to Alaska per year, making it the top state for domestic emigration to Alaska. So did 4,200 residents per year from Washington and 2,200 from Oregon.
____________________
I hate to admit it, but Nate Silver has done some credible work here – and the dangers to conservatives is far greater than "losing" Alaska.  There has been for the last ten years or so, a decided shift in the culture of America toward a more liberal-leaning outlook.  This shift has certainly been accelerated in the last four years under the presidency of Barack Obama.  During a portion of a conversation with RI that was not published, they indicated that much of this shift has actually come from the poor economy – people moving from collapsing liberal state economies into more conservative state economies where job opportunities are greater – but bringing their liberal beliefs with them as well.  If a California has a million or so people move into other states seeking work, that shift in population can have a considerable impact on the electorate of that other state.  We aren't even considering the additional impact of illegal immigrants voting.
Fact is, conservative Americans are quickly becoming the political minority in America due to an incompetent Republican Party, an all-in for the Democrats mainstream media, and certainly an radical liberal education system that is now seeing its own efforts pay big dividends in the form of uneducated liberal drone graduates from our schools and universities.
Sorry for the depressing end of week commentary – but Nate Silver is on to something…and it has me worried.    -UM 
(Sigh…the good old days of 28 years ago…)
______________________________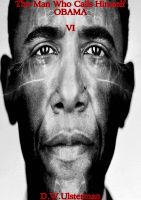 The Man Who Calls Himself Obama VI
Volume Six in the ongoing bestselling series of political insider interviews that rips the deceptive cover off the Obama White House – the radicalized progressive agenda, the infighting among White House staff and other political leaders, and a shocking tale of a young Barack Obama's behavior during a gathering of Chicago political elites:
"And then the door opened behind me and I turned around and saw a young tall thin black man looking at me. I recognized the face but wasn't sure of the name right away, but was pretty sure he was someone important. I told him I was just using the bathroom but knew I must have looked very embarrassed. He just stared at me for what seemed like forever. There was just enough light in that hall that I could see that his eyes were not really "right". I thought he was probably drunk. Then his eyes seemed to suddenly clear up and become a lot more focused and he looked down at me and he gave a big smile. He asked me if I was ok. I looked down to his belt which was undone and I could see that his dress shirt was not tucked into his pants. When I looked back up at his face the smile was long gone. He looked really angry at me now. He asked me again if I was ok but he said it in a way that really spooked me. There was something in his voice that scared me. Really bad. And it was at that exact moment I finally recognized his face as the author and political candidate Barack Obama. "  The Man Who Calls Himself Obama VI