PART THREE
WHI: Uh-huh…bet you're happy to have me sit back down. Little know it all prick. -Inaudible- motherf-cker. You ain't never even been to the big show. I'm so sick of Northeasters tellin' MY people what WE know and don't know. You ain't no better than me son. And your time will come too…when you got blood on those soft little white hands of yours…just you wait. Things won't seem so cut and dry then…just you wait. So I'm gonna go back on over here and sit on down.
…And you're gonna talk.
(WHI turned his head to me as he walked back to his seat and WINKED. The bastard actually WINKED at me! I'm shaking my head and smiling as I write about it now. Big brass ones this…)
RI: You two…all the threats.  No need to be so physical here, ok?  Enough with the…I don't know if you're being serious or just winding me up.
WHI:  Ah, go on then.  Say what you got to say. I'm listenin'.  I'll be sittin' over here all nice for you.  See?  No worries, son.  Let's hear what you got to say on this.  You want to blame ME for Barack Obama?  Ok then…let's hear it.
RI:  (clears throat)  Well…ummm…I'm not saying YOU are entirely to blame of course.  That's…that would be silly.  But…you…your party…the Democratic Party…look ummm…the last twenty…twenty years…all of it…all of you…it all led up to Barack Obama getting elected in 2008.  It led up to…before that…led up to him getting the nomination, which NEVER should have happened.  No experience…no record…it was clear to me…and you did mention this before in your earlier interviews…that it was obvious there were some powerful forces behind Obama…Chicago and beyond…who were…who successfully placed him at the top of the party – the DNC…that really pushed to have him be nominated in 2007…2008, right?  You already admitted that, right?
WHI:  (Pause) ….Sure.  Don't recall it specifically…but whether I said it or not…yeah – Obama was pushed to the top.  Yeah.
RI:  And most of that power…was centered in Chicago, right?
WHI:  Yeah…that's where he…that's his – was his residence.  Yeah.
RI: And you don't ummm…not comfortable going to Chicago anymore, right?  That's also what you said?
WHI:  Ok – whatever…get to where I'm to blame for Obama.  'Cause that's got me more than a bit pissed off here.
RI:  Back in '07…the phone rings and you're offered a spot on the campaign.  The Obama campaign.  And you take it. You accept the offer.  And that call came in from Chicago, right?
WHI:  Yeah – I took it.  Where the call comes from?  I don't know?  Who cares?  I already said it was a mistake…I let my pride…I was hurt that the Clintons – that Hillary hadn't already signed me on.  I've never really cared for her…and she feels the same I suppose…So yeah…I accepted a position but I wasn't…I was on the ground working it…I wasn't…prep work…some media stuff here and there…but I think looking back, they were probably just thumbing their nose at the Clintons.  I wasn't the only one from the old gang doing time for the Obama team then…not hardly.  There was a bunch of us.
RI:  I know that.  More than you realize – I know that.  All of it.  But my point here is that…this guy who gave a speech in 2004 at the DNC…and he just became a Senator…now all of a sudden he's being placed at the top of the nomination.  I don't know of anything like that ever happening in national politics.  Have you?  For that to happen…ummm…it takes other hands involved, right?  And in this case…it took the kind of power that was capable of…of defeating the Clinton machine, right?  Now there is no way…no possible way…that a recent no-name state senator should have pulled that off.  Correct?
WHI:  Right – whatever.  Where you taking me on all this?
RI:  If you want to defeat your enemy, you have to know your enemy.  You just told me to use this forum to…to say things I wouldn't normally say, right?  So…here it goes.  I can get conspiratorial as much as the next guy.  I've studied up on this…going way back.  And the Obama phenomenon is just….I'd call it the almost-culmination of a plan that goes way back.  Your Old Man as you call him…he hinted about this stuff over and over again.  He didn't come right out and say it…but he sure as heck hinted about it.  And so did you in your own way….how…how there's groups of very powerful people…organizations…I recall many times you telling (Ulsterman) to stay away from that stuff.  That you didn't understand it…and that somebody could get squashed like a bug…and they wouldn't even notice it.  Isn't that right?
WHI:  (Sighs) …I don't need you to say my own words back to me son…is this train gonna leave the-the-the station here or not?
RI:  (Turns to UM) And do you remember the 19th and G time period?  When the Old Man was telling you to go take that walk?
UM:  Yes.
RI:  And if I recall…he was…ummm…disappointed in you after that. You…you missed something, right?  I'm ummm….going over…have been going over everything he told you earlier.  The Old Man…there's…he was hinting at a lot more than either of you realized.  I think…I think there was ummm…a lot more there that…than you saw at the time.
WHI:  You don't need to tell me about him…he don't need your words of support.  He's already got my thanks.
RI:  It's not just that…the 19th and G…you missed it.  Both of you did.  (Ulsterman) took the walk and came back…and (WHI) told him to drop it.  To not…ummm…put himself in the crosshairs…something like that.  Right?
UM:  Basically, yeah.
RI: Ok-ok…this really is related here…humor me for just a minute.  You wanted me to open up more here so…so here we go.
UM:  That's fine but I agree with (WHI)…you need to get this moving along.
RI:  You were sent to that area of 19th and G, correct?  And prior to that…ummm…the Old Man had told you about Leo Gerard, right?  My timeline has you being told about how influential…how dangerous Leo Gerard was…connections with Lagarde…ummm…the toppling of the Brazilian government and the…the use of the American military in Africa to help facilitate Gerard's expansion into that area…that all took place at the end of 2011 and then the walk…you were told to walk around the area of 19th and G in Washington D.C., right?  And this was at the end of 2011 and the very beginning of 2012, right?
UM:  I think so…something like that, yeah.
RI:  How much of a walk did you take?  How far…I am very familiar with that area and you weren't so…ummm…you were certainly at a disadvantage…but when I read that interview you did…there were hints of K-Street…I knew…ummm…sensed where you were being pushed.  I would love to ask him myself…but I'm pretty sure I know exactly where they wanted you to end up on that walk…but you…you didn't put the clues together and you…I don't think you fully invested yourself in that task.  And you were being put to the test there…and…no offense when I say this…but you failed that test.  And  I think (WHI) was…you can jump in here if you want…but (WHI) was pushing you away from that area as well.  It was a hot spot of activity right around that same time…all the players…many of them…who were being spoken about by the Old Man…he saw all of it happening.  And you…you were give a chance to figure it out and you didn't so…he shut that part of it down with you.  Both of you.
UM:  I have no idea what you're going on about here.  None.
WHI:  Listen to what he's going to tell you here.  I know where he's going now.  And he's on it son…he figured out the Old Man – what he was doin' with that walk of yours.  I didn't say nothin' then…it was too hot.  Too dangerous.  Way over your head and I couldn't protect you from those people…that area…just up the road?  Right?  (Looking at RI)  A few blocks on up?  That where you're goin' here?  Just past K-Street?  Next to that little hotel, right?
RI:  Yes – that's it.  Were you there?  For the meeting?
WHI:  I'm not sayin' nothin' on that.  This is your story.  Time's past so go on and tell it.
RI:  (Turns back to UM) You went down to 19th and G…but…you really didn't take much of a walk from there, did you?  And that was what you were instructed to do.  The Old Man…he had set it all up for you.  Told you about Gerard…the unions, the progressives…the stuff…the banks in DC and back to Chicago, Lagarde…he connected all of that for you but you missed it.  And that's ok…most people would.  But it was a test…my opinion there…don't ummm…don't want to speak for the Old Man – wish he was here to confirm this for me…but, and (WHI) agrees…that area was hot at the time.  A flurry of activity…still is.  The Old Man went on about the IMF, Lagarde, Gerard, lobbyists…media…who the progressives really were…all of that was tied together by him – and then he told you to take that walk around 19th and G.
UM:  I'll say it again…I have no—-
WHI: (Interrupts) —Shhh!  Let the man talk now…he's got it right – most of it.  If you want to know what he was up to then…the Old Man…then let (RI) explain it to you.  This is a time you need to listen now…because you weren't listening back then.  You were only seeing what was right in front of your eyes…but you didn't take it just a little further.  Just up the road.
RI:  Right – exactly.  You saw the IMF building…World Bank.  Ok…that was just the start of your walk – which is just down the road from the White House of course.  Some people think you can actually walk…underground…from the IMF to the White House.  That area of 19th and G…that it's connected underground.  Lagarde could go in and out of the White House and no-one would know.  But that's not what I'm talking about here.
Have you heard for the organization called Common Cause?
WHI:  Oh hell – yup.  He's all over this thing.
UM:  Sounds somewhat familiar – but no…I'm not particularly aware of it.
RI:  Most people aren't.  It is a fly-under-the-radar organization…but it ties in with so many of these groups that are the…(turns to WHI)…you have called them investors of Barack Obama, right?  The real power that holds up that administration…the ones Jarrett confers with…before telling her puppet how to act?
WHI:  I didn't get that specific…but I ain't sayin' you're wrong here.  Keep talking.
RI:  Common Cause has an office in New York…close to…
WHI: (Interrupts)—NO.  Leave that out.
RI: (Pause)  Ok…right.  It has an office in New York.  That is where…people who know about the group…that is the office most people associate with the Common Cause organization.  But the real office…the real ummm…power base…is in D.C.  Right up from 19th and G.  And I am almost 100% certain you were meant to find it when you were told to take that walk.
Now there was a…Common Cause had their annual awards dinner right at the end of 2011 – same time the Old Man was connecting all of these individuals and groups together for you.  Care to take a guess as to who had top billing as the host of the event?
UM:  (Shrugs)
RI:  Mr. Leo Gerard.  And do you want to know who was billed right under Gerard as host of the event?  Global Strategies Group.  You know who they are?
WHI:  No…They were there too?  At this…this ceremony?
RI: Yes.  Gerard…Global Strategies Group.  This is the end of 2011…before Romney and Obama are squaring off.  All of these groups…these people…it was coming together to secure Obama's second term.
UM:  What does…Global Strategies?  Who are they?  What do they do?
RI:  Marketing.  Internet campaigns – new media…POLLING.  A lot of internal polling data comes from them…tied with them…they connect to a lot of other polling firms.  They've even done joint efforts with Public Opinion Strategies, which most people assume is a Republican-only firm…they did most of the Romney campaign data – but they are a highest bidder firm just like all the others.  And the Obama White House…a lot of money is sent through GSG and out to other firms.  And some of those firms…I'm laying it out for you're here…are being used by Republicans.
WHI:  Ah hell…holy f-cking hell.  The internals.  Like you said…the f-ckin…-DELETED- … That's what you were gettin' on about those internals!
(NOTE:  I was a bit slow getting up to speed here, but it was at this point the conversation really started to clarify for me – and the details of what RI was laying out hit both myself and WHI at about the same time.  The Old Man had warned me, but I didn't see it.  He had likely tried to counter the agenda of the progressives with his own money, his own attacks on some of the larger mainstream media outlets, but did not have enough resources to more fully go UP against the collective efforts of so many groups working together under this umbrella organization called Common Cause…common cause indeed – the destruction of the United States of America)
RI: Global Strategy Group has its hands in almost every published Democratic poll out there…and those polls are then regurgitated by Mainstream Media over and over again until people just accept the lie…but…ummm…where they really excel, is the new media.  The Republicans are so far behind in learning how to utilize the new media…GSG takes money from hundreds of liberal/progressive groups…and turns it into…they just dominate sites like YouTube…things that are then easily forwarded to millions of users through Twitter, Facebook…Google searches…it's all intertwined and GSB is one of the primary engines for the Obama machine to make that happen.  And GSB is just one of the organizations tied into Common Cause.  At that ceremony last year…you had representation from MSNBC, big money bundlers, advisers to Barack Obama…and you want to know who else was a sponsor along with Gerard, and Global Strategy Group?
…John Zuccotti.
WHI:  The park?  The Occupy bullsh-t?  All that?
RI:  Exactly.  The owner of Zuccotti Park and the genesis of Occupy Wall Street.  Does anyone here think it was just coincidence that this ceremony was hosted by the head of possibly the most influential and dangerous labor organization in the world, who was a very vocal supporter of the Occupy movement, as well as a firm that handles, among other things, new media public relations, as well as the individual who actually ALLOWED all those protesters to hang out day after day in what became the Occupy movement?  A movement…people say it died out before the 2012 election but…no…it was a huge factor with that 1% tag…they destroyed Romney with that.  Months before Election Day…they spent…a hundred million maybe?  A hundred million pinning Romney down as the evil rich guy.
…Those three…GSB, Gerard, Zuccotti…all hosting this Common Cause event last year.  Common Cause…within walking distance of Lagarde's IMF…and Barack Obama's White House.  Bankers. Media. Union leaders.  Public Relations and polling firms…George Soros – he's deep into Common Cause as well…they are all, for the most part…all rich white people who want nothing more than to see the traditions of the United States broken apart.  All of these threads that the Old Man was putting out there to you…they all come together with the Common Cause organization.  And they don't just own the Democratic Party…they are heavily invested in the Republican Party as well.  Look up Zuccotti…he represents that dynamic perfectly.  And Barack Obama represents…like I said…the current prize of their investment.  The tool for that destruction.  And…it's been a long time coming.  The Democratic Party started it…the Republican Party…some of them…are now accepting it.
UM:  You pointed to (WHI) and said they were to blame.  Take a moment…please explain that.
RI:  (Clears throat)  I am not saying (WHI) is to blame specifically…they certainly helped though. Not intentionally of course…but bigger picture…yes.   Go back to the 1960 election…I'm going to go ummm…this will seem off topic…but it's a theory I've patched together over the years.  I told you…I'm  a student of political history…it's…I've been told it's what makes me effective.  There's nothing really new out there – just updated versions of things people have attempted before…
(Pause)…so take the election of Kennedy in 1960.  He defeats Nixon.  That election was…history has later indicated the idea it was stolen is ummm…likely. Illinoisin particular –Chicago.  See?  Seems like so often we always come back to Chicago.
So Kennedy is in…Nixon is out.  By any means necessary, like your Military Insider said…Nixon is out.  But the selection of the Vice President…that is what I've learned in studying this stuff…you have to watch the other hand.  Who are they setting up to be in the second position?
UM:  (When you say "who" as in who are they setting up – who are you talking about?
WHI (Interrupts)  There is always a group…I call them investors…who will have significant influence on the Veep pick.  They tell the party who they want as the nominee…then they tell the nominee who they want as the running mate.
UM:  And the nominee…the campaign…they always go along with that?
WHI:  Almost…not always…but almost.  With JFK…yeah…that was…they didn't like Johnson, right?  But the investors…you're saying the investors wanted him there?  The books…the history books say it was a matter of wanting to winTexas but…Texas back then…Kennedy probably had it won anyways.  It was competitive for him at least.  The reality is…and it shocked a lot of people inside the campaign…Kennedy chose Johnson and for a lot more than just f-cking electoral votes.  There were people behind that campaign that wanted LBJ in place, right?  (Nods at RI)  That where you're going here?
RI:  Yes – I see you've studied up on this as well.
WHI:  Son…maybe not as far back as 1960…but I done more than studied up on this sh-t.  I've lived it.  Same thing happened with Gore…there were people…all kinds of pressure to get that assh-le on the ticket with Bill.  And he didn't like the man…but next thing I knew…Gore was the running mate.  And then…he was almost president.  Almost.
RI:  Exactly…so JFK is elected, LBJ is put on standby.  Then of course, the assassination and Johnson is president.  1963.  And what happens after that?  Legislatively?  We have the single most massive expansion of the federal government since FDR, right?  Medicare.  Medicaid.  Two enormous programs that within years were endangering the economy of the United   States.  LBJ pushed those programs, told the country it is what Kennedy would have wanted…and there was hardly a fight against it.  And America hasn't been the same since.  And it was YOUR party (points to WHI) that pushed for it and got it.  Medicare. Medicaid.  Expansion of welfare…but it took indifferent Republicans to help it along too.  Indifferent, incompetent…Republicans are to blame as well.  The established Republicans.  The Rockefeller Republicans.  These political investors…they had the leadership of both parties bought up.  Controlled.  Very similar to what we have today.
WHI:  Now go on and explain Nixon.  '68.  How they used up the Kennedy's…pushed out LBJ…and put in Nixon
UM:  What?
WHI:  Just listen – let us talk.  This is our world.  You listen and learn somethin'…
RI:  Right…Nixon…the second Kennedy is assassinated, Robert…and Nixon is given the nomination and then the presidency.  And Nixon is establishment Republican of course…has the full approval of the Rockefeller wing.  The investors.  Before the apple cart is turned over if you will.  The anti-establishment groups of the 60's become…they begin to infiltrate the Democratic Party and take it over in the 70's.  And the media of course…and so…Nixon is gone.  But before that happens…just like LBJ…a huge expansion of the federal government.  He creates the environmental protection agency…the same agency that intends to tie us even further with the globalist plan through the carbon tax program…which is based in…Chicago.  Back to Chicago.  And every single one of those Common Cause groups…all tied to that plan as well.  The carbon tax.  Lagarde.  All together in that.
…Back to Nixon though.  At the time…more important than the EPA…it was Executive Order 11615.  The United States Began printing false money.  The end of the gold standard.  The country couldn't handle the cost of the new entitlement programs…already skyrocketing far beyond what had been predicted just a few years earlier…and back then the IMF…it was much more conservative.  But with the new era of false money…that conservatism was challenged and eventually…the IMF became what we see it as today…a globalist monster that will bend the United States and all other free nations to the requirements of these one-world central banking fiscal policies.  The Old Man hammered this home to you over and over again but I still don't think you truly appreciated what they were trying to tell you.
…So Nixon does the bidding of the globalists, and then…like JFK…is tossed away to be replaced by Carter.  Now with Carter…his administration is full of former 60's radicals.  They think…stupidly though…they think they can push ahead with their agenda and nobody will put up a fight.  The GOP is as weak as it has ever been after the fabricated Watergate fiasco—
UM:  (Interrupts)—what do you mean fabricated?  Watergate?
WHI:  Hell yes fabricated.  Watergate was all bullsh-t.  Nixon was used up…became too unreliable.  Get his ass out.  The Republican Party…the seed that Goldwater had planted inside the party…what…ten years ago?  The party was getting fractured back then…challenging the…you call them Rockefellers…that works…similar to what happened with the Tea Party…newbies comin' in and talkin' back to the leadership and Nixon…he couldn't keep it under control. So…they got rid of the bastard.  Sound about right?
RI:  Yes – pretty much exactly how it was.
UM:  How do you know that?
RI:  I was told  Personally.
UM:  Who?
RI:  High level staff…at the time. They were there for it – almost all of it.   Nixon White House.
UM: (Looks over to WHI who nods head)
Nixon staff…still alive?
RI: …Moving on.  Past Nixon.  So we have Carter, the chaos of his administration.  The They…the investors…they didn't predict ummm… international events…the severity of the economy…what they thought would be a very accessible and easily controlled White House became a liability…and on the other side…Republicans…they were losing control of their own party…Reagan.  Reagan and his own group of investors…California.
WHI:  Tough sons-of-b-tches those Reagan boys.  Independent…well funded.  East Coast hated them.  Right?
RI:  Exactly…the Rockefeller wing…party leadership… Bob Dole and his crew…Bush…they detested Ronald Reagan.  It was the nightmare of 1964 back to haunt them – Goldwater with charisma.  They didn't trust Reagan and they set out to destroy him.  Threw in a 3rd party candidate to seal the deal for Carter.
WHI:  Anderson.
RI- Right again.  John Anderson, a Republican, by that time…1980…ummm…Republican in name only.    A strange mix of…he used to be much more conservative.  Then he shifted over to the left on some social issues, and suffered from a huge ego.  So he was manipulated into running on as an independent after Reagan won the nomination.  The Rockefellers figured he would steal votes from Reagan and Carter would stay on despite his disastrous first term.  As bad as Carter had proven as president, the establishment feared the unknown of Ronald Reagan more.  Bud Anderson was not the final trump card in that scenario.  They had put in place one other contingency just in case.
WHI:  Bush.  H.W.  The sit down with Reagan's campaign by the party leadership.  The week of the convention.  Reagan was not happy about it either…but his own investors…they bent to the will of the party.  Convinced him to go along to get along.
RI- you can see it…if you watch…find video of it…how tense Reagan looks when he made that announcement.  And eight years later…how little he campaigned for Bush in 1988.
UM:  Hold up – what's the deal with Bush?  Why did…the people who control the party…why did they want him in there?  As Vice President?
RI:  Bush was…is a globalist.  Even then…that was his…he had already been deeply invested in that world.  See…it's not a matter of Republican or Democrat with these people…it's just that Democrats…there's more of them who embrace this one world governance idea…but there's some Republican who do too…and Bush was one of those Republicans.  Ronald Reagan was not…he had…by that time…he knew the evils of the labor unions…communism…and he was ready and willing to take them on with the full power of the Executive Branch of the United States government if he was the next president.  And that scared the hell out of these…investors.  Ronald Reagan was too much of a loose cannon – he was outside of D.C. – a self made man.  He couldn't be counted on to continue their agenda without question  – or be easily manipulated into doing so.
WHI:  And he was tough.  I know that – had many people tell me that when it came to his basic principles…the things that others called him stupid for…he wouldn't bend.  When he broke up that union…the air traffic controllers dispute…people in D.C. sh-t themselves.  And so did the Soviets. Told they were stunned by how tough he was.  American presidents were supposed to be these whiny little pansy ass f-gs by then…but Reagan…he spooked the Soviets.
RI:  Right…but Reagan did choose Bush.  Bush waits it out…eight years.  Then he is made president.  So Ronald Reagan, he slows the destruction of the United States, but once he serves out his two terms, it's back up to speed for them.  The Republicans moderate again…the line between Republican and Democrat starts to blur – again.  When that happens…ummm…you know the Rockefellers are in charge again.
So Bush comes in, raises taxes, expands government…the whole compassionate conservatism thing…it starts there with him.  Not by name yet…that happens with GW.  But the concept is born from the father – Bush 41.  And now the investors…they get more anxious.  Greedy.  They want things to go faster…so to do that…it takes a Democrat.  In the White House.  Time for a change.
(Points to WHI)
…Time for Clinton.  Tell me…what was the most important thing your campaign had to get you elected?  It survived scandal…had a candidate not known too much on the national scene at that time…the media saved you the nomination…but what was the single biggest help in getting Clinton elected in 1992?  Defeating Bush?  Taking out any incumbent is tough…but you did it fairly easily.  What was your own secret weapon?
(Long Pause)
WHI:  Perot.  The 3rd party thing.
RI:  And who set that up…who got Perot to go there?  To spend that kind of money?  Used his hatred of the Bush's.  Convinced millions that they were fighting the system when in fact they were actually just helping to keep it in place but even more of it than they had before?
WHI:  (Shakes head)  Some of our…supporters did.  The ones you call investors…Meetings in Texas.  The whole budget deficit angle…media exaggerated the recession…it all came together for us.
RI:  Not so different than how it came together for Obama?
WHI:  (wipes hand across forehead)  Yeah.  Guess so.
(Points finger to RI)
…BUT…Bill Clinton is no Barack Obama.  He ain't that far gone…or he wasn't then.  Not then.  No way son. And don't tell me he was – I was there.
RI:  Maybe not…maybe not then.  But what about now?  What about Hillary?  2016?
WHI:  I worked my last campaign for those people.  I promise you that.  Not again.  Not ever.  F-ck 'em all.
RI:  (Smiles)  …And Shepherds We Shall Be – For Thee Lord For Thee.
WHI:  What are you on about?
RI:  I hope you're right.  Time will tell…it always does.
UM:  So where to we go from here though?  How do conservatives fight back?  3rd party?
RI:  A third party – absolutely NOT.  That is exactly what the progressives want to happen.  Fracture the Republicans – splinter them up into smaller sub groups.
No…what needs to be done is further improvement on how to utilize the alternative media…which is happening already.  Outside of the party right now mostly…the leadership is just too far gone to understand it.  Romney was indifferent to it during the campaign and that really hurt his efforts…the current party leadership is the same.  Cantor is much more open to it than Boehner…those two are really sizing each other up.
UM:  Would you like to see Cantor assume the leadership?
WHI:  (Interrupts)—I'll say this – the Dems fear Cantor a hell of a lot more than Boehner.
RI:  Cantor – yes.  Absolutely an improvement in the leadership over John Boehner.  Boehner was placed in his current position…by others…Cantor is earning that position.  Big difference.  And where Boehner despises the Tea Party wing of the party…Cantor appreciated its potential.  He's not completely on board there…but he understands where it's coming from.  Boehner doesn't.
WHI:  You want to know how conservatives defeat the Democrats?  Simple.  See what happened in 2010?  That Tea Party thing.  That was one of the most incredible and powerful moments…politically…I've EVER seen in my life.  Nobody was promisin' those people nothin' – it was generic from the ground up people power right there.  And it scared the sh-t outta both the Republicans and the Democrats.  And it still is.  But all those folks…they got cool come election time 2012.  A whole lot of them did anyways.  Am I right?
RI:  You are…and I believe it's due in part to the expansion…extension of unemployment benefits…the expansion of the disability program…food stamps…I am pretty sure there are millions of people who were Tea Party in 2010 who, out of sheer survival mode, were benefiting from at least one of those programs by 2012 and maybe it was shame, or lack of excitement over Mitt Romney…who knows?  But millions of them stayed home…didn't vote…and that was critical to getting Barack Obama re-elected.
…from here on…it's about 2014.  There is a group of us…local, state, and national…we are working to reignite that Tea Party motivation that we saw a few years back.  But we have to be big tent about it.  And the social issues have to take a back seat to the topics of Big Government, and fiscal spending.  We have to better communicate just how dangerous the situation is getting.  Look at California.  On the brink. Illinois not far behind. Detroit.  There are these examples happening all around us by society…the American public…they are asleep.  I understand there is post-election exhaustion…the holidays…but we need to wake up soon and start to fight again.  Republicans, Independents…Democrats…whatever you choose to call yourself politically…these people have to  come together for this fight.
We can't count on Congressional investigations…or some other event out of our control…the people still have the power.  They really do.  They just need to be reminded they can actually use it.  I'm convinced they will.
UM:  Why are you convinced of that?
RI:  Because I refuse to believe in an American where they won't.
UM:   That simple?
RI:  Yes – that simple…we have a plan.  Things in motion…good people.  Really good, down to earth conservatives.   Got a state senator getting ready to step up – would love for you to talk to them about their ideas on where the party needs to go from here.
Don't lose faith in America.  Don't ever lose faith.
…2014.
____________________________
END INTERVIEW.
(NOTE:  Thank you to both RI and WHI for this incredible interview.  And nice touch on the quote RI – I knew it sounded familiar.  One of my favorites!   Also, to the Old Man, if you're reading this – thank you as well.  Clearly there was much you spoke of that was not fully understood then.  I'm finally getting up to speed now.  Sorry it took me so long.   –UM)
________________________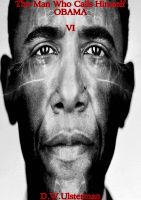 Volume Six in the ongoing bestselling series of political insider interviews that rips the deceptive cover off the Obama White House – the radicalized progressive agenda, the infighting among White House staff and other political leaders, and a shocking tale of a young Barack Obama's behavior during a gathering of Chicago political elites.   LINK