A friendly heads up to readers of the UlstermanReport.com.
First novel to be available early next year – Dominatus.
COMING SOON…
___________________________
Available Now from D.W. Ulsterman-
The Bestselling Insider Series:
The Man Who Calls Himself Obama: Volumes 1-6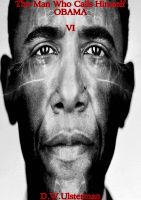 In 2008, the United States elected a largely unknown politician from Chicago to lead the most powerful nation on earth. In 2012 this same United States re-elected Barack Obama to a second term as president, and yet, for most, the man calling himself Obama remains an enigma – a figure whose past remains largely hidden, and whose present continues to confound, confuse, and even enrage those already long familiar with the trappings of presidential politics.
And while the Mainstream Media continues to push the carefully fabricated version of who Barack Obama would have Americans believe him to be, there are those having seen or heard otherwise. Persons who know too well the whispered truths from within the halls of the Obama White House – a White House ruled by an Iranian-born adviser, and a myriad of political sycophants constantly in fear of retribution.  An Obama White House that is ultimately little more than a carefully crafted and constantly protected lie – a lie always in fear of those who might reveal its truth.
Here now is Volume Six of some of that truth from those we simply know as The Insiders, including portions of interviews never before published…