In an odd gesture of implied support, President Barack Obama recently spoke by phone to Egypts's Muslim Brotherhood president Mohamed Morsi, and according to White House reports, offered NO criticism of Morsi's recent attempts to concentrate his own power and rule Egypt as a dictator.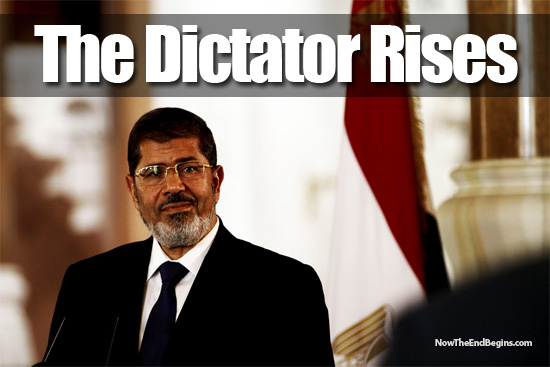 (Barack Obama appears more than willing to help radical Islamist Mohamed Morsi become dictator of Egypt) 
___________________________
EXCERPT:  (via NY Times)
CAIRO — Tanks and barbed wire had surrounded Egypt's presidential palace and crowds of protesters were swarming around last week when President Obama placed a call to President Mohamed Morsi.
Mr. Morsi and his allies in the Muslim Brotherhood stood accused of  a sudden turn toward authoritarianism, as they fulminated about conspiracies, steamrollered over opponents, and sent their supporters into a confrontation with protesters the night before that call; the clash left seven people dead. But Mr. Obama did not reprimand Mr. Morsi, advisers to both leaders said.
White House officials say that as Egypt's first democratically elected president, Mr. Morsi has a unique chance to build a credible democratic process with broad participation, which is the surest source of stability.   LINK
___________________
Barack Obama refuses to offer criticism to Mohamed Morsi, a refusal the White House then attempts to explain away due to Morsi having been "elected".  Ok…so a man who has spoken out in the past against both the United States and Israel, a man who is a longtime member and leader of the Muslim Brotherhood, an organization with longstanding ties to radical Islamist groups throughout the world, a man who wants to implement Sharia Law to all in Egypt and the world – a law which decimates any hope for the rights of women or those who practice any religion outside of fundamentalist Islam (Christians are now being openly murdered in Egypt) - this is the man Barack Obama and his White House appear to cower and plead to?  This is the man Barack Obama is unwilling to criticize even as he continues to send billions of American taxpayer dollars in the form of aid/bribery to Mohamed Morsi's radical Islamic government?
Yes America – Barack Hussein Obama is doing just that.
Perhaps he views Morsi as an example of what he would like to do in America?