The United States is no more, replaced by the global authority of the New United Nations-a process initiated during the second term of Barack Obama. Hidden away within the wilderness of Alaska there remains the tiny community of Dominatus, home to those who still recall the America that was, and might one day be again – those willing to fight tyranny in the name of liberty.
Their story is ours… 
________________________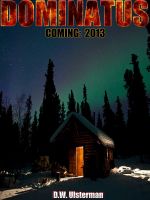 He, like so many already gone before him, knew just enough to make him a liability. And if what he knew was enough for them to kill him, what then of me? How long before I too was eliminated as a gesture of "just in case" by the U.N. operatives?
…His hand shot across the bar and took my own in a firm handshake, and I noted the small Seal Team 6 tattoo on his forearm.