A Republican Insider who is working to return his party to its more conservative ideals, details how John Boehner came much closer to losing his position as House Speaker than most realize.
(After promising Republicans he would battle much more strongly against Barack Obama, John Boehner remains Speaker of the House…barely)
____________________
RI:  Am I disappointed that John Boehner remains our Speaker?  Yes.  Am I surprised?  No.
Yesterday when you said you were getting media reports that Boehner was about to resign I told you I had not heard anything like that.  Again, I don't know where those reports came from but I wouldn't be at all surprised if they came from the other side of aisle.  The Democrats were really enjoying the chaos in our party.
Having said that, you need to know that the fight was a lot stronger and Boehner's position a lot weaker than most people realize, including most in the media.  His losing the nomination was a lot closer than you think.  I said we were working with a small group and trying to grow those numbers quietly.  This kind of secrecy needs to be maintained until the very last moment.  It was at that final moment when some of them who were agreeing with us and wanting to openly challenge Speaker Boehner backed off.  This was expected.  That always happens.  If you can't give people certainty, you can't expect them to put so much on the line for you.  So like I said,  while I'm disappointed, I'm not surprised.  That's just how it works here.  I can't change gravity.  And self preservation is pretty much the same as gravity on Capitol Hill.
We had nine Republicans openly go against Congressman Boehner.  We had four more who either didn't vote or voted present.  That means we had 13 ready to fight, and all we needed were just a few more and the outcome could have been much different.  At the very least a multiple ballot situation which would have seriously weakened Speaker Boehner even more and might have cost him the position.  Once you get another ballot, then people who were on the sidelines start to step up.  You asked how much Cantor was involved in the rebellion.  Officially or personally the answer is zero involvement.  None. Again, that's how it's done.  He was aware of the rebellion, his no vote the other day provided motivation for that rebellion, but he wasn't personally involved in any of it.  That would be a major breach of protocol.  As the #2 he can't be seen openly doing that kind of thing. 
The Speaker's office had people securing support late last night and very early this morning.  Basically promising all of us that he is ready and willing to take Barack Obama on over the debt ceiling negotiations.  Saying that it's the debt ceiling where the real fight needs to be.  Am I optimistic that he will do that?  No.  I told you a while ago that there needs to be a change in leadership.  A change in messaging.  A change in direction for the Republican Party.  We have played nice too long.  We put ourselves into corners over and over again.  We aren't even close to controlling the message.  Not even our own message.  I want to see us mocking President Obama and his liberal Democrats.  Not in a mean spirited way necessarily, but in a poke fun at them a bit, and laugh at how silly and stupid their ideas are kind of way.  It's all serious business, but go after them with humor and I guess kind of just brush them aside like they are annoying jokes that nobody wants to hear anymore.  Liberals hate that the most.  They hate being made fun of.  It scares Obama to death to be made fun of.  That is what you learn when you really study how Reagan went about the job of president in dealing with liberals in Congress and the media.  He would just make fun of them, over and over again, and liberalism became a joke to the American people.  That is why you hardly hear the term anymore.  Now they call themselves "progressive" because Reagan was so effective at associating liberal with a sad and pathetic mindset.  We need to do  the same thing with the term Democrat and Progressive.  Make fun of them while we are kicking their butt.  Don't get nasty – get nice.  But the kind of nice that hits them in the face and knocks them down with a joke and a smile.
Just like Reagan did it.
We'll see if Boehner stays true to his promises.  I hope he does.  He's not a bad guy.  He's just a weak leader.  And he takes things too personally.  He is the kind of guy Obama and his operatives can manipulate much too easily, and that's dangerous for the country.
Oh, and one last thing in case you didn't hear about it.  Allen West received some votes for Speaker.  Thought you might like to hear that.
Today wasn't a victory, but it wasn't a defeat.  It was more of the same though, and just like you and a lot of other people, I'm getting tired of more of the same.  Real tired.
-RI 
________________________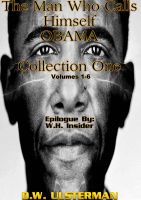 The Man Who Calls Himself Obama: Collection One: Volumes 1-6
D.W. Ulsterman is now offering readers the first six volumes of the bestselling Insider interview series in one complete collection with never before available commentary by White House Insider. Here is the true and shocking tale of the Obama White House as told by those simply known as The Insiders.
"People die in this business. I am ashamed to say I know that fact all too well." -WHI