Per the requests of several readers, I am very pleased to now offer the first six volumes of the bestselling Insider series as one  complete collection.  I am even more grateful that White House Insider has also responded to my request and taken the time to provide their own personal epilogue to the series – and a fitting epilogue at that.  Hopefully the future will provide more opportunities to hear from them again.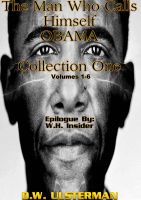 The Man Who Calls Himself Obama: Collection One: Volumes 1-6
Introduction:  D.W. Ulsterman is now offering readers the first six volumes of the bestselling Insider interview series in one complete collection with never before available commentary by White House Insider. Here now is the true and shocking tale of the Obama White House as told by those simply known as The Insiders.
_____________________
EXCERPT:
…People die in this business. I am ashamed to say I know that fact all too well.  
Being the optimist, and now working well with the individual I sent his way that we call Republican Insider, Ulsterman seems content to keep on fighting against Barack Obama and working to ensure Republican gains in the 2014 midterms. I haven't decided if I'm ready to join in that fight just yet, but the fight in me isn't all gone, and if I had to place a bet, I would say I'll be back in there swinging away before too long, for whatever good it might do. Or, maybe I'll just sit on the porch with the dogs and count our fleas.  -WHI: Epilogue to The Man Who Calls Himself Obama: Collection One
Go the following link to download the Collection One  Volumes 1-6 of the Insider series:  LINK
_________________________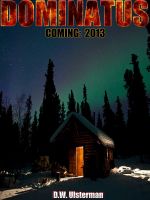 The United States is no more, replaced by the global authority of the New United Nations-a process initiated during the second term of Barack Obama. Hidden away within the wilderness of Alaska there remains the tiny community of Dominatus, home to those who still recall the America that was, and might one day be again – those willing to fight tyranny in the name of liberty.
Their story is ours…   LINK