It appears Barack Obama is not the only one with a drone obsession – the United Nations is now preparing to move ahead with a drone fleet of its own in order to utilize them in "peace keeping" missions in Africa.  The slope grows ever more slippery does it not?
(The United Nations Preparing Bombing For Peace?)
_______________________
EXCERPT: (via Washington Post)
U.N. wants to use drones for peacekeeping missions
The United Nations, looking to modernize its peacekeeping operations, is planning for the first time to deploy a fleet of its own surveillance drones in missions in Central and West Africa.
The U.N. Department of Peacekeeping has notified Congo, Rwanda and Uganda that it intends to deploy a unit of at least three unarmed surveillance drones in the eastern region of Congo.
The action is the first step in a broader bid to integrate unmanned aerial surveillance systems, which have become a standard feature of Western military operations, into the United Nations' far-flung peacekeeping empire.  LINK
_________________
Empire?  Defined as "an extensive group of states or countries under a single supreme authority."  It is now evident that Africa will be the testing ground for this developing program – the very area in fact that was a focus of considerable attention by globalist union leader and one of the architects of Barack Obama's rise to power,  Leo Gerard.  (See link:  Union Leader Leo Gerard Granted Use of American Military?  )
A rather interesting – and potentially frightening use of term by the Washington Post there.  The United Nations, developing a "fleet" of drones in order to enhance its "peacekeeping EMPIRE".  And what then of those who don't wish to be a part of that globalist brand of peace?
Bring on the drones…
_____________________________
For a more complete connect-the-dots picture of what Barack Obama and the United Nations are doing in Africa, please read the following:
Union Leader Leo Gerard Granted Use of American Military?
_____________________________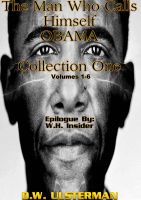 The Man Who Calls Himself Obama: Collection One (New WHI Content)