Another FREE excerpt of D.W. Ulsterman's first full novel – DOMINATUS
WARNING:  ADULT LANGUAGE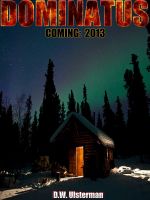 For the first free excerpt to Dominatus, go to this  LINK
______________________________________
WARNING:  ADULT LANGUAGE
May, 2037
…The room's walls were lined with photos from what appeared to be locations spanning the globe.  Behind the desk was a framed copy of the American Declaration of Independence, and above that hung what appeared to be a genuine musket rifle.
One photo was placed prominently in the middle of the wall showing four men with their arms draped over each others' shoulders with Egyptian pyramids as backdrops – the man on the far left a much younger version of the one who now sat across the desk from me.
"Many lifetimes ago.  A whole different world then.  I'm the last one left alive in that picture.  Even though I was the oldest of the four of us.  We saw a hell of a lot of shit together.  They had us dropping in everywhere. Congo. Malaysia. Greece.  Then came Benghazi and it all went to shit.  And after that…one by one…we were gettin' picked off.  Suicide.  Traffic accident.  Heart attack.  So I came up here…before they got to me too.  And I ain't been back since.  Fuck it.  Fuck them.  Fuck all of it.  And if they want one last fight with this old boy…bring it."
For the first time I took in just how tired this man I had been told stories of for so long, now appeared and sounded.  My notes indicated he had just recently turned 73, but there was a fatigue in him that suggested a man who felt the burden of years even beyond those of 73 – especially in the eyes.   Deep crevices shot out from the cornered rims of his glasses, and equally deep lines encircled both sides of a mouth that inclined downward into a permanent frown.  The closely cropped salt and pepper hair was much thinner than the photos my father had shown me, and certainly more sparse and grey than the man he once was in that photo on the wall.  The shoulders remained broad though, and the firmness in his grip during our recent handshake hinted at a significant strength that still remained in a body trained decades ago by a government to seek and destroy those who would do that government harm, until eventually, that same government deemed him and those like him to be a threat as well.
I took out my recording device – it had been my dad's and was nearly 40 years old.  I felt its use to be more appropriate to this particular task and subject than something more modern.
"Can we begin?"
He turned his head back to me and gave a brief glimpse of a smile and an even briefer nod of the head.
"Sure…however you want to do this.  I promised your father…you have as much time…ask all the questions you want.  Whatever…whatever questions you want."
I noted the faint hum of what was likely the tavern's generator coming from somewhere outside the office – possibly behind one of the doors in the hallway.
"Please state your name."
"Mackenzie Walker…people been callin' me Mac since I can remember.  You can do the same."
"When and where were you born Mac?"
"Born and raised in Carville, Louisiana– 1964."
"So you are now, at the time of this interview, seventy-three years old, correct?"
"Yes."
"And when did you enter the United States military?"
"That was October, 1984.  Did a couple years of junior college…then signed up.  Wanted to see the world.  Young and dumb – all that kind of thing."
"What branch of the military?"
"Navy.  When America still had a military – still had its own Navy before it was co-opted by the U.N..  Was in for just over a year…then applied and was accepted into SWCC."
"What is that?"
"Special Warfare Combatant Crewman – work alongside the SEALs – get in get out operations…and from there…did that for about 9 months… I decided to try out for the SEALs.  Knew enough of them by then…and figured I was tougher than most…so why not?  Did my two months at BUD/S…passed my PST easily…so easily that some people from JSOC noticed me and I got handed over to them."
"And that led to your involvement with SEAL Team 6?"
"Yes – DEVGRU…Naval Special Warfare Development Group.  At that time working out ofFortBragg–North Carolina. This was around…1987…1988.  Reagan was still in the White House."
Mac had become much more animated than when I first saw him.  Clearly the subject of his past military experience – at least its beginnings, was a favored one.
"How long did you remain with SEAL Team Six?"
"Nine years…up to…about 1997.  Did several months in Eastern Europe…Kosovo.  Black Squadron.  That's where I started to hook up a lot with the Intel gang.  A bit of NSA.  CIA.  All the voodoo-acronyms.  The real nasty fucks.  Started the transition with them."
"Transition?"
"NSA was scouring installments like DEVGRU for recruits.  Wanted guys like me who could handle themselves in a shit-storm but had some Intel training too.  Went over my file…report records, all of it.  Liked what they saw and asked me to join up.  They fed my ego… I was the biggest bad ass on the planet back then – so I thought.  Still young and stupid.  Told me how much good I could do for the country…so I said yes.  Took the offer.  And for government work – the money was damn good.  Well, months went by…then years…thought I had made a mistake.  Had me pouring over data inside of a cubicle at Forte Meade.  I was losing my mind there.  Kept making requests to put me in the field and they kept coming back with soon.   Real soon. Then 9-11 happened.  The World Trade Center attacks in New York. The ones the U.N's curriculum programs…their cultural sensitivity mandates scrubbed from the history books, from all the media logs…Kids today don't even know those attacks happened. After 9-11 I was offered to become part of something called Project Icon.  A little in-house zero oversight thing of the DoD's that also ran through NSA.  In fact, PI was hardly known about, but what we did…we were even deeper behind the curtain than Icon was.  That's where the picture there on the wall you were looking at comes from.  The four of us there – we were Project Icon.  That's where I really learned how to kill.  And the more I did it, the more atta boys they gave me.  Just like the movies back then…some shit went down, we got the call…we cleaned it up. Or…we went in and stirred the shit up and then got out and waited.   And we were good at it.  That picture wasEgypt…2003.  Five weeks before American military forces hit the sand in Iraq.  We helped pave the road for them. A few Egyptian weapons smugglers helping out Saddam's military.  First we asked nice.  They ignored us.  Then we executed them.  Then we posed for that picture and slept without a care in the world that night."
The shock at his last descriptive statement must have clearly registered on my face because he looked at me with more than a bit of amusement.
"I know your dad told you what I was then…and I don't make any excuses for it.  I was a killer on hire by the government of the United   States.  I swore an oath to defend and if need be, terminate any threats both foreign and domestic.  And that's exactly what I did.  A whole lot of it too.  Thing is…as repulsive or scary to some people what I was back  then might be…without me there is no America.  There's always been someone to do the dirty work that kept the country going.  Kept it safe.  While the rest of them were sleeping in their beds at night…I was slitting the throats of the ones who wanted to see those beds burning up with them in it."
FULL NOVEL COMING IN SPRING OF 2013