Fascinating article by Lee Habeeb of National Review this week outlining how the rampant and illogical liberalism of politicians like Barack Obama is actually responsible for the gun violence in America – primarily the inner cities where young Black and Hispanic men are literally being shot dead on a daily basis.  It's the true story of gun crime in this nation the Mainstream Media and Hollywood elite choose to ignore.
(How many more will die from your liberal Big Government policies Barack?)
_______________________________
EXCERPT: (via National Review)
THE WAR AGAINST BLACK MEN
…So let's go back to that wretched January 12 story from Chicago, President Obama's hometown. The murdered 14-year-old had a name, Rey Durante. He was gunned down by two shooters while standing on the porch of his Humboldt Park home. The two men opened fire, according to news accounts, near midnight, striking him multiple times in the chest.
When paramedics arrived on the scene, he was lying just inside his home, bleeding from several bullet wounds. He died there. Police found blood all over the front steps and more than half a dozen shell casings on the sidewalk. He would have turned 15 in a few days, his stepmother told reporters.
On the sidewalk near the crime scene, a local paper reported, the father of one of the boy's friends cried as he paced near a group of teenagers. When a neighbor asked him what had happened, his response was simple — and heartbreaking.
"A little boy just got murdered," he said.
Twenty children and six adults were killed in Newtown, Conn., last month, and the media quickly, and justifiably, descended to tell the tragic story. In the first few weeks of January in Chicago, 25 people have already been murdered. Most were young black and Hispanic men, murdered by other young black and Hispanic men.
In Chicago, it's Newtown every month. But the media haven't converged on Chicago this month.
…Almost half of murder victims in the entire country are black males and, all too often, young black males. And nine out of ten of those young black men were killed by other young black men.
So much for the war on women, a narrative the media sold relentlessly in the run-up to the November election. The real war in America is on men, and black men in particular.  
READ FULL ARTICLE  HERE
_______________________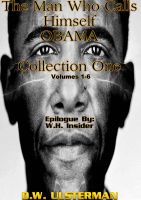 The Man Who Calls Himself Obama: Collection One: Volumes 1-6
"Downloaded this to my Kindle last week. Stuff is political crack for junkies like me. Keep it coming Ulsterman. One of the best on the interwebs at taking on Obama. Love it."   -Comment from reader "October Surprise"