Nearly 240 years ago the United States declared war against a monarchy.  It appears Barack Obama is now intent on rebuilding his own version of an executive powers monarchy in the coming months…
(The above photo is sadly a lot closer to reality than many Americans would wish to believe.) 
_________________________
EXCERPT:  (via WHD)
Obama's dangerous charge of 'absolutism'
…One of the most remarkable and frightening aspects of President Barack Obama's inaugural address was his dismissal of his opposition – presumably the House Republican caucus – as "absolutists" who are without "principle."
…Once the president's opponents have been defined in the American mind as despotically inclined, unsusceptible to reason, and unwilling to play by the normal rules of politics, it is only natural that extreme measures are permitted in response.
This White House has already shown a propensity toward ruling by executive fiat – whether by executive action that effectively enacts rejected legislation, by refusing to enforce existing law, or by crafting rules for legislation to grant vast new powers to bureaucrats.
…That reporters have been tapped to assist with Obama's incipient GOP demonization campaign was made clear this week by White House Press Secretary Jay Carney, who in the handful of days since the inaugural, has already repeated the "absolutism" charge twice.
…Obama rarely meets with members of Congress, even those of his own party. Not wanting to take the time to legislate, he will now turn to demonizing Congress and making end runs around them.
Once Obama has succeeded in rendering his opponents illegitimate and circumventing them with executive power, he will have gone at least some way toward having the playing field to himself. And then he will be alone in his absolutism. 
READ THE FULL ARTICLE BY KEITH KOFFLER  HERE
__________________
Koffler is absolutely right – Barack Obama's recent inaugural address, followed by White House Press Secretary Jay Carney's repeated use of the term absolutism in reference to those Republicans who voice any opposition to the Obama agenda, is a clear signal the Obama White House and its cohorts in the Mainstream Media are preparing a massive campaign to delegitimize all conservative opposition in America.  The first impact of this effort will be the possibility of Democrats taking back control of the House of Representatives and holding onto its current control of the Senate – a scenario that could prove highly favorable to Barack Obama getting everything he asks for during his last two years in office.
This is the very scenario warned about by Republican Insider weeks ago – it now appears to be fully underway.   -UM
________________________________
Dominatus – Excerpt Three (FREE)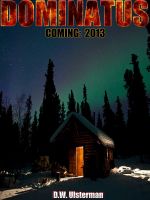 "So what happened that day at the gas station? The day you killed that man?"
Mac removed his glasses and rubbed his eyes before putting them back on, his stare returning to the wall of photos.
"I pulled in…saw a large black man beating a woman. Black woman. He was beating the shit out of her too. Closed fist. Had her by the hair, screaming down at her. I could see her mouth was all busted up…an eye that looked like it might be ready to pop out of her head. Not a pretty sight. I'd seen a lot worse, but not stateside. That guy was going to kill her right there in the parking lot. So I just did what comes natural in that situation…what I was trained to do. Nothing less – nothing more."   LINK