Reports are now incoming regarding a petulant Barack Obama, upset over a bi-partisan effort in the Senate to come up with a resolution on the immigration issue, that did so with little to no input from the Obama White House.  Obama demanded he be given the spotlight, flying to Las Vegas to give another empty political grandstanding speech that said nothing the day after the Senate announced it was already moving forward on the very same issue.  Oh – and the cost to taxpayers for that unnecessary trip was hundreds of thousands of dollars.
(Barack Obama was none too happy about Senate members, both Democrats and Republicans, stealing the limelight from him on the immigration issue.)
_________________________
As one of our Insiders stated a few weeks ago, Barack Obama is already entering Lame Duck status.  It's not full blown Lame Duckery by any means – he still wields the considerable and influential support of an adoring media, (while polls once again confirm America as a whole remains lukewarm to both him and his policies) and the bully pulpit of the White House – but Democrats are already starting to pull away from The Man Calling Himself Obama.
And why shouldn't they?  What has Barack Obama done for other Democrats?  He has helped push the party so far left that once his celebrity is removed from the already limited attention span of the American public, the party faces the daunting task of trying to repair itself in the wake of the destruction Obama is leaving behind.  Their only hope, and that is what was underway with this most recent bi-partisan effort in the Senate, is to already begin the work of mending the proverbial political fences with their Republican counterparts.
Ah – and that brings us to the Republicans of course.  Just as the eight years of G.W. Bush harmed the GOP's general brand-name appeal to the public (not entirely deserved by the way – the media slammed the Bush presidency 24/7 for much of those eight years), the Party of Lincoln has just recently started to repair  its own damaged operating system.  Election 2008 was a near-throw away effort with but one bright spot and a clear marker of where the party should find its strongest base of support, and that was in the candidate for Vice President, Sarah Palin.  (Liberals will now scoff at that last line – like well trained harpies they have learned to instantly react negatively to any mention of Palin)  But it was Sarah Palin's appeal to both fiscal and social conservatives that soon after the 2008 election formed into the considerable force dubbed The Tea Party that swept aside Democrats during the 2010 Midterm Election in the most lopsided national election in a generation.  The Old Guard of the Republican Party soon viewed this Tea Party movement with increasing suspicion, due in great part to the simple fact it could not entirely control it.  House Speaker John Boehner, who was made Speaker because of the Tea Party, has spent the last two years attempting to compromise between them and his own Republican establishment.  The result has been a fractured and somewhat incompetent party that has more often than not, been outplayed by both Barack Obama and his Mainstream Media support system.  In 2012 voters voted celebrity over common sense.  Celebrity though is fleeting – and Democrats are now increasingly viewing the president through that prism.
The political dynamics of the last four years are starting to shift now though, and this week's odd Obama speech in Las Vegas is one of the first real signals of that reality.  That was Senate leadership telling the president – We Don't Need You.  The fact is, that has been how things have run since Barack Obama entered the White House.  Obama enjoys giving speeches but little else.  Democrats have long voiced concern over how little Barack Obama engages in the actual forming of policy.  As president, Obama rarely speaks to members of Congress, or even members of his own cabinet.  Much of what reaches him comes through the filter of powerful figures such as Senior Adviser Valerie Jarrett – whose second floor office is just a short walk from the upstairs study where the president spends so much of his time during his days at the White House.  And it is Jarrett who keeps her hand atop the heads of the many Czar appointments of Barack Obama – those shadow figures given access to the policy powers of the Executive Branch with no Congressional oversight.
President Obama's speech yesterday on immigration policy was little more than a hissy fit.  Upset at having even a bit of attention taken away from himself, he flew to Las Vegas despite some Democrats suggesting he not do so for fear of interrupting the still forming agreement between Democrat and Republican leaders.  Barack Obama ignored that request – as he has ignored Democrats all along, and flew to Vegas regardless.  The teleprompter was loaded up, and by God, he was going to give that speech because HE is more important than any issue – immigration included.
Now it is up to the American people to decide if that in fact is true…
________________________
The Man Who Calls Himself Obama: Collection One: Volumes 1-6  LINK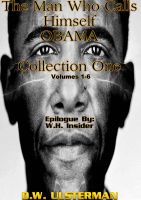 D.W. Ulsterman is now offering readers the first six volumes of the bestselling Insider interview series in one complete collection with never before available commentary by White House Insider. Here is the true and shocking tale of the Obama White House as told by those simply known as The Insiders.  LINK