Three years ago Barack Obama used survivors of the Ft. Hood Massacre as political props for his State of the Union Address.  Now on the eve of his 2014 State of the Union, one of those survivors breaks her silence, calling out Barack Obama for neglecting a promise he made personally to her and others who survived the attack against Ft. Hood by an Islamic radical.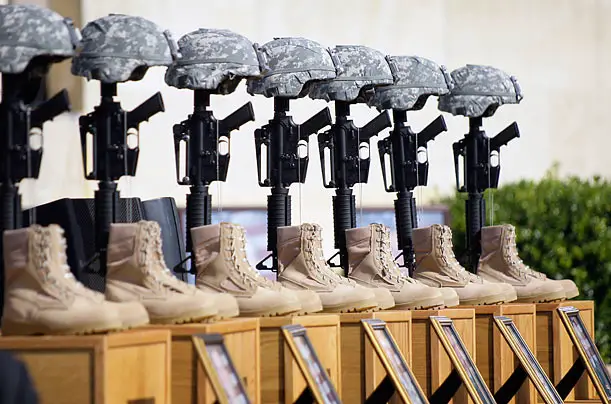 The Obama Administration described the Fort Hood Massacre as "workplace violence")
__________________________
EXCERPT (via ABC News)
Fort Hood Hero Says Obama 'Betrayed' Her, Other Victims
Three years after the White House arranged a hero's welcome at the State of the Union address for the Fort Hood police sergeant and her partner who stopped the deadly shooting there, Kimberly Munley says President Obama broke the promise he made to her that the victims would be well taken care of.
"Betrayed is a good word," former Sgt. Munley told ABC News in a tearful interview to be broadcast tonight on "World News with Diane Sawyer" and "Nightline."
"Not to the least little bit have the victims been taken care of," she said. "In fact they've been neglected."
There was no immediate comment from the White House about Munley's allegations.
…Some of the victims in the lawsuit believe the Army Secretary and others are purposely ignoring their cases out of political correctness.
"These guys play stupid every time they're asked a question about it, they pretend like they have no clue," said Shawn Manning, who was shot six times that day at Fort Hood. Two of the bullets remain in his leg and spine, he said.
"It was no different than an insurgent in Iraq or Afghanistan trying to kill us," said Manning, who was twice deployed to Iraq and had to retire from the military because of his injuries.
An Army review board initially classified Manning's injuries as "combat related," but that finding was later overruled by higher-ups in the Army.
Manning says the "workplace violence" designation has cost him almost $70,000 in benefits that would have been available if his injuries were classified as "combat related."
"Basically, they're treating us like I was downtown and I got hit by a car," he told ABC News.  LINK
______________________
Now if the words of survivors of the Fort Hood Massacre detailing the Obama administration's indifference to their sacrifice, let me remind you of the disgusting behavior of Barack Obama himself shortly after he learned of the terrorist attack at Fort Hood.  Here is video of the president giving a "shout out" to "Dr. Joe Medicine Crow" during a White House ceremony.  The attack on Fort Hood is clearly not given serious consideration by this president, and it is only later as media pressure begins to speculate as to why Barack Obama acted so indifferently, does he attempt to make amends.
This video continues to shock me, as it so clearly details a man detached from the reality and responsibility of being President of the United States.  Watch Barack Obama's behavior after being notified of a mass shooting at a military base with multiple casualties – and if it does not leave you concerned over the personality and character of the current president…well…