Mr. class warfare Barack Obama once again dived into the deep waters of his own hypocrisy this week by heading out to a Valentine's Day dinner with Michelle at the most exclusive D.C. restaurant that exclusively serves the most elite of the one-percent crowd where a meal can run you about $10 PER BITE.  And this is just after we learned of Barack Obama's only-me trip down to West Palm Beach Florida over the President's Day holiday.  Michelle is taking HER OWN vacation – much of which is paid for by YOU the taxpayer of course…
(The above photo should be parody.  The truly sad thing is – it's not…)
_________________________
Keith Koffler at White House Dossier explains it like this:
…Which is nice, since each bite probably costs about $10.
That is, the price for tasting approximately 20 small dishes is $225, not including tax and tip, while wine pairings will set you back $75, $120, or $200. If we assume a mid-range $120 for wine, the total comes to $345 per person, or $690 for two. Add in Washington's 10 percent restaurant dining tax and a 20 percent tip and we're at $910.80 for dinner.
Surprisingly, the Obamas did not go out for any $900 dinners during the presidential campaign.  LINK
______________________________
WHITE HOUSE INSIDER: Words From A Washed Up Tired Old Political Operative – and then some…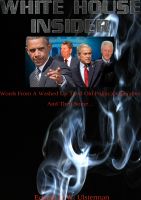 Maybe I should put it this way. Every White House, I don't care how conservative or liberal or whatever they are, every White House has its skeletons. Every administration does some major f*ckuppery. Bad deeds. That's just the name of the game. Now if there's some reader out there pointing a finger at me and saying "hey that's not right.  They should know better." I'll just point my finger right back at YOU and it would probably be my middle finger, and say I know you've done some screwed up sh*t in your own life too.  A White House is made up of human beings. They f*ck up. They get greedy. Go on a power trip, whatever. It happens. Every time. Every administration.  Don't kid yourself otherwise. Ronald Reagan was surrounded by some of the toughest assholes to ever step into Washington DC.  And you want to know something?  That's a big part of what made them so damn good.  You don't like to hear that?  Well open your eyes and grow up.  That's the system we have.  It's a tough game. And in Washington DC, they eat the young and the weak, and then ask for seconds…   -WHI