In a very oddly worded public response to a question posed to him during an online interview, Barack Obama dances around the topic of using military drones to kill Americans inside of the United States.  Watch the following response and as you do, keeping in mind at no point does President Obama simply say NO we would never do that…
__________________________
First he begins his answer by stating, "There has never been a drone used on an American citizen on American soil."  Barack Obama doesn't say there never will be – or that he never intends to do so…he instead chooses – deliberatly, to say that such a thing has not happened…YET..  The president then gets into the meat of his prepared statement to a question he knew he would be asked:
"The rules outside of the United States are going to be different than the rules inside the United States," Obama explained. "In part because our capacity to capture a terrorist inside the United States are very different than in the foothills or mountains of Afghanistan or Pakistan."
Again, note how Barack Obama refuses to simply say NO – we would never do that inside of the United States.  He throws out words words and more words, which is the now all too familiar Obama song and dance routine that they use to placate the media and effectively bury the question, while at the same time, still hinting at true intent, which in this case, is the frightening prospect of a sitting President of the United States having the authority to utilize drone strikes against American citizens on American soil by simpling labeling that citizen or group as terrorists.
Lastly, I would have you pay very close attention to the final part of Barack Obama's response in the video.  Whenever this president comes out and openly promises "Hey, that's not how things work", or his even more oft-used phrase "Let me be clear"  - Obama is actually admitting to exactly how he wishes for it to be.  Also, the fact Barack Obama is taking the time to do even a brief media sit down like this, prepared questions or not, indicates there are those in the administration finally getting nervous about the growing backlash against the Obama drone obsession.  And that term obsession is finally being used by other media outlets – long overdue, but getting there nevertheless.
Now to the video:
__________________________________________
White House Insider: Words From A Washed Up Tired Old Political Operative – and then some…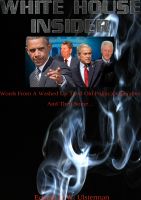 The Man Who Calls Himself Obama: Collection One: Volumes 1-6