In what will likely reignite old rumors regarding Barack Obama's rather close relationship with Reggie Love who was for a time, always at the side of the president, the two men found time to vacation together in West Palm Beach Florida – without Michelle Obama around…
(Hmmmm…)
__________________________
Here is the official White House pool report:
Reggie Love departed AF1 soon after POTUS, apparently a guest for the weekend.  LINK
This news explains the renewed interest in an earlier story covered here regarding Mr. Love:
Rumors Persist Surrounding President Obama's "Body Man" WARNING: Adult Content
Perhaps the photos suggest just what Mr. Love said – youthful indescretion.  A "mistake".  Too much alcohol – too little sound judgement.  Or, perhaps they suggest something more regarding Love's character – and his relationship to President Barack Obama, which in turn, may have played a significant part in Reggie Love's recent and swift departure from the Obama White House.
For those who have not seen the photos – here they are.  CONTENT WARNING:   LINK
_____________________
And the choice to vacation with a younger man without his wife around in West Palm Beach Florida, one of the most popular destinations in the country for gay couples,  will only add to the rumors now once again swirling about the president.
_______________________
White House Insider: Words From A Washed Up Tired Old Political Operative – and then some…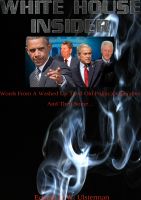 Maybe I should put it this way. Every White House,  I don't care how conservative or liberal or whatever they are,  every White House has its skeletons. Every administration does some major f*ckuppery.  Bad deeds.  That's just the name of the game.  Now if there's some reader out there pointing a finger at me and saying "hey that's not right.  They should know better."  I'll just point my finger right back at YOU and it would probably be my middle finger, and say I know you've done some screwed up sh*t in your own life too.  A White House is made up of human beings. They f*ck up.  They get greedy.  Go on a power trip, whatever.  It happens.  Every time.  Every administration.  Don't kid yourself otherwise.  Ronald Reagan was surrounded by some of the toughest assholes to ever step into Washington D.C.  And you want to know something?  That's a big part of what made them so damn good.  You don't like to hear that?  Well open your eyes and grow up.  That's the system we have.  It's a tough game.  And in Washington DC, they eat the young and the weak, and then ask for seconds.   -WHI:  February, 2013       LINK