A longtime political operative whose experiences include numerous presidential campaigns, delivers this dire warning to those unwilling to prevent the post-2014 Obama agenda for America.
The second update under the new Smashwords format is avialable  HERE
You can download via Kindle, iPad, Nook, etc.
…Well let's just cut to the chase then.  I don't care what some of you think on any of that, and I don't care how much Mr. Ulsterman wants to keep on defending y'all, even the ones who I figure are downright indefensible.  Or is that undefensible?  Hell if I know.  I'll let Mr. Ulsterman sort that out himself.  He's capable enough.
Now what I do care about, and I care about it a lot, is what I'm seeing go down in D.C. right now.  This whole sequestration bullshit is basic distraction politics and it's got the Obama White House feeling like a dead pig in the sunshine.  That's to say they are feeling downright good about it.  Comfortable.  Real comfortable.  Now why's that you say?  Or maybe you don't say because you've had your fool head shoved so far up your midnight madness for so long you ain't had a breath of good countrified air for years.   -WHI
Also available:
White House Insider: Words From A Washed Up Tired Old Political Operative – and then some…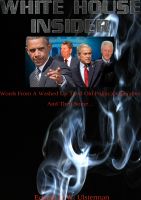 ___________________________________
IF YOU WISH TO HEAR THE LATEST UPDATE FROM WHITE HOUSE INSIDER FOR FREE tune into:
Moretti Underground the Liberty Report
And remember, the other 99% of material available here at theulstermanreport.com is FREE as well!
-UM