For most readers, the name Harold Ickes will hold little or no meaning.  Inside DNC operations though, his name is legend, and his re-emergence at the DNC Rules and Bylaws Committee last week points to the Clinton Machine taking back control of the Democratic Party, and doing the meticulous work of ensuring Hillary Clinton is their nominee for president in 2016.  (Thank you to R.I. for the heads up)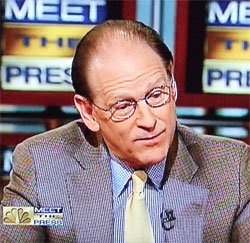 (via NY TIMES)
Ickes Returns to Democratic Committee's Rules and Bylaws Panel
…But when Harold M. Ickes walked into the Rules and Bylaws Committee meeting on Thursday afternoon and rejoined the panel, at least one longtime Democratic strategist raised her eyebrows.
"He predated the Clinton era, but when I saw Harold reappointed to the D.N.C., he surely, in my judgment, symbolizes the return of the Clintons," said Donna Brazile, a fellow member of the rules committee.
Mr. Ickes said he was put back on the committee by Debbie Wasserman Schultz, chairwoman of the national committee and herself an ardent advocate for Mrs. Clinton in 2008, but he also acknowledged that he "actively sought" the seat.
"It is in my view the most important committee at the D.N.C. because of its role in shaping the nomination process," he said, adding a bit mischievously, "The goal is to design rules to nominate the strongest candidate for the general election."
…Mr. Ickes, 73, is a fixture in the Clinton's world. He ran Bill Clinton's New York campaign in the 1992 Democratic primary and served as a deputy chief of staff in Mr. Clinton's White House. He was a top adviser to Hillary Clinton's 2008 campaign, and Mrs. Clinton's chief liaison at the D.N.C. during her primary battle against Barack Obama. From his perch on the rules committee he memorably railed against a compromise on disputed delegates in the waning days of the Democratic primary.
At a notably less sedate national committee meeting in late May 2008, Mr. Ickes argued in vain against what he called the "hijacking" of Mrs. Clinton's delegate share from two disputed state primaries. "I am stunned that we have the gall and the chutzpah to substitute our judgment for 600,000 voters," Mr. Ickes said at the time.   LINK
____________________________________
"I'm hooked on Mr. Walker!  Once you start there's no stopping. Waiting for book three with great anticipation! Although fiction, these Ulsterman books are creating a greater understanding of today's events for this old gal!"   -PATRICIA TADLOCK
CHECK OUT D.W. ULSTERMAN'S AMAZON.COM BOOK PAGE  HERE
"I really enjoyed this book! Love the action and the characters. Couldn't put it down. Had to get book two immediately upon finishing this one!"  -EVE BAUGHMAN
CHECK OUT D.W. ULSTERMAN'S AMAZON.COM BOOK PAGE  HERE