Oh my.  Orwellian indeed.  The Obama Department of Justice just released a warning to all public school districts in the nation warning of what Eric Holder deems unfair disciplining against minority students.  In essence, they are charging these schools with racism and making it clear they will prosecute those school districts.  How many parents feel safer knowing their student's security is being placed in the hands of some Washington D.C. policy pencil pusher intent on racializing every aspect of public education?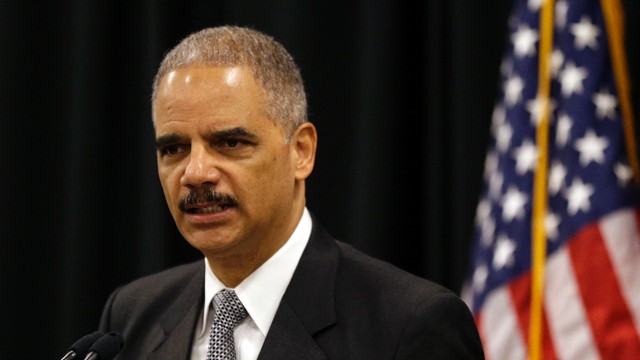 Obama Attorney General Eric Holder warns schools he will prosecute for what he deems racist discipline policies.
__________________________________
The White House is indicating these suggestions are "non-binding" as a way to deflect from charges of Big Government intimidation of every school district in the country.  At the very same time though, the Holder DOJ has already went after school districts who have attempted to discipline minority students for wrongdoing – the charge being racism of course.
So while they may say these are merely non-binding suggestions, the actions of the Obama administration are already saying otherwise.  They view themselves as the true wardens of your children's school, schools that are to follow the rules of the Obama White House, and not those of the local community and its administrators, teachers, and parents.
Anyone scared yet?  You should be…          -UM
_______________________________
"MAC WALKER'S PATRIOT OMNIBUS"
Mac Walker is a man of shadow and steel, blood and bone. He protects those he loves with a ferocity and purpose few can overcome. His life has taken him around the world and back again, to a home that is no longer his, in a country that would see him dead. He seeks truth both in himself and others, and purpose in a place where the traditions and values of old fight against the emerging tyranny of the now.    LINK
He is Mac Walker, and this is his story, spanning decades, available here as a single download for the first time ever, allowing readers to save up to 50% over purchasing each of the Mac Walker stories individually.
SEVEN STORIES - AVAILABLE AS A SINGLE DOWNLOAD FOR ONE LOW PRICE!  LINK
________________________________
AND COMING THIS MONTH, D.W. ULSTERMAN'S LATEST NOVEL –BENNINGTON P.I.  "Bonita"